App Store hits 15 billion downloads: more than 100,000 iPad apps, over 425,000 total
10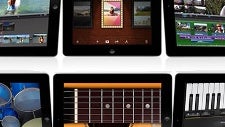 Apple has just announced that its AppStore has handled 15 billion downloaded applications since it waslaunched nearly three years ago on July 10, 2008. It was back inJanuary when the number hit 10 billion, and last month the samenumber stood at 14 billion. Taking into account that there are morethan 200 million iOS devices across the globe, that works out to animpressive average of 75 applications downloaded per device.
Applications tailor-made for Apple'stablet, the iPad, stood at over 100,000, inconceivably more than themere few hundreds of Honeycomb-optimized applications. The grandtotal now stands at over 425,000 applications, though, cementing theApp Store's position as the richest application market.
But it wasn't just Cupertino benefitingfrom the growth – developers have been paid $2.5 billion to date.Makers of renowned apps like Infinity Blade and publishers bringingMartha Stewart and Sesame Street for the iPad also shared theirenthusiasm over the growth of the platform. Check out the link below for the official press release and feel free to share your thoughts on the growth of the App Store and other app markets in the comments below.
source: Apple