Any.DO updates its to-do app with Moment to help you plan your day
2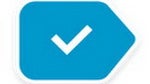 Any.DO
is one of our favorite to-do apps for mobile, especially now that it doesn't require Facebook for its logins. The app is clean, simple, easy to use, and well designed. Well, the app just got a bit better by adding Any.DO Moment in a new update, which is intended to help you plan your day better. Even though the update only changes the app version from 2.24 to 2.25, this one is a pretty big update.
The biggest update included is Any.DO Moment. You can set Moment to appear at a certain time and prompt you to plan out your day. When Moment appears, it will walk you through any tasks you have set for the day. For each task, you can either keep it in your Today folder, mark it as Done, Delete it, or move it Later. The Later option will prompt you to change the task to tomorrow, in two days, next week or the procrastinator's dream "someday".
In addition to Moment, the update gives a new look for Any.DO reminders, and as is popular with apps these days, it also adds support for DashClock.
If you want to give it a shot, Any.DO is available for free in both the
iTunes App Store
and
Google Play
, and there is also a Chrome extension to help you keep track even when you're not on your mobile device.