Android's acclaimed Any.DO task app finally arrives for iOS, gets a Chrome browser extension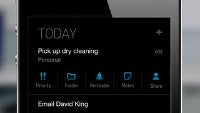 Any.DO, from the creators of Taskos, is one of the best to-do list apps out there for Android - clean and minimalistic interface, voice tasks, predictive text, gestures, well-designed widget layouts, the works.
Millions of Android phones have it installed since it launched last November, after securing about $1 million in venture funding. Now iPhone users can finally take advantage of the real deal too, although there has been a knockoff called the same in the App Store for a while now.
iOS has no shortage of task apps, including the hot
gesture-based Clear application
that made quite a noise with its innovative interface recently. Any.DO, however, is a pretty special case, and involves easy integration with Facebook and Twitter among its numerous virtues. For Android phones, of course, it is all up in hugs with Gtasks as well.
Any.DO is working towards making the task of getting things done seamless, and is fed by funds from popular venture shops backed by people like Google's Eric Schmidt, and receiving mentoring from Facebook's head of mobile products and Twitter's VP of Corporate Strategy Elad Gil.
Besides an iOS version, the to-do app received a
Chrome browser extension
, making it a breeze to add and sync tasks with your phone while at the computer.
If you own an iPhone, take it for a spin from the source link below. Those with Android handsets might want to give it a try as well, if they haven't done so yet, or install the Chrome extension if they are already using Any.DO on a daily basis.