Angry Birds Space plays a disappearing act on the BlackBerry Playbook - hopefully coming back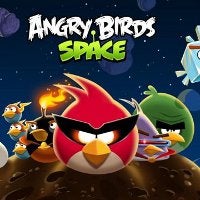 You gotta love those
Angry Birds
! Well, they simply can surprise us all in many ways with their antics and smug sense of humor. In any event, we're certain that there are plenty of people across the world getting their game on with the latest installment –
Angry Birds Space
.
Interestingly,
BlackBerry PlayBook
owners got a surprise very recently, but then, it seems as though those birds executed yet another prank joke on them. Specifically, Angry Birds Space was briefly made available to download from the BlackBerry App World very recently, but in a surprising twist, it pulled off a disappearing act of some kind.
From the looks of it, someone over at RIM jumped the gun just a tiny bit and just couldn't wait to let the game out, but it's has been taken down. Still, we can only hope at this point that it'll be coming back very shortly, where it'll be available for purchase at
$4.99
.
In the meantime, PlayBook owners will only need to wait it out before experiencing Angry Birds Space, but for those lucky enough to snag it while it was up, we're sure they're making good use of it.
via
CrackBerry