Angry Birds Space hit 10 million downloads in three days
10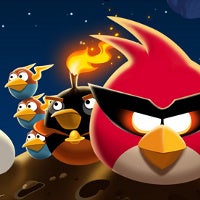 Angry Birds Space is the one game we're not surprised to see rake in 10 million days in just three days after it's official launch. Rovio introduced the game to iOS and Android's Google Play on Thursday, but even before that it
announced the game officially via NASA
and posted a teaser from real space station featuring astronaut Don Petit.
Angry Birds Space
takes the familiar birds versus pig battle into space, where the gravitational pull of Earth does not apply and each planetary body has its own gravitation. This changes the gameplay from the ground up, allowing different combinations and taking some more time to calculate the right trajectories for the space birds. Add to that some new birds and boss fights, and you know you probably won't be missing on this latest Angry Birds either.

It's also worth mentioning that Angry Birds Space didn't initially launch on Windows Phone. Microsoft's platform is lacking the traction and market share to be worth the development effort on Rovio's side, according to the Finnish software company. However, it's possible that the Space edition of the birds will appear on WP some day.