Andy Rubin thinks the Apple/HTC ITC decision may start patent settlements
22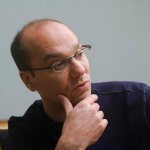 It may just be wishful thinking or it may be a good understanding of how the system works, but Andy Rubin thinks that the ITC ruling in the dispute between Apple and HTC may be the beginning of settlements in patent disputes.
If you somehow missed it,
Apple won its case with HTC
on just one count of patent infringement, which could lead to a ban on HTC handsets, although
HTC is already testing a change
which will work around the patent in question. Today, Andy Rubin, Google's Senior VP of Mobile and the father of Android, spoke to journalists at HTC headquarters and took the positive side of it saying that this is "a way to settle the situation," and that he thinks "this is the beginning of settling", because the ITC is usually a quick way to settle these sorts of disputes.
Of course, it may settle this patent dispute, but there are likely going to be more in the future unless the patent system gets fixed.