Android Wear Lollipop upgrade detailed
4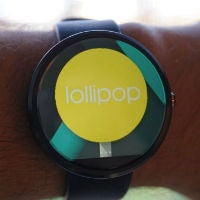 Android Wear has already gotten some pretty big updates recently, adding options for local music playback and GPS support, but there is another big update on the horizon for Google's wearable platform; and, it's the same as the big update rolling out now to various smartphones and tablets - Android 5.0 Lollipop. The first reports are out, and we're getting some idea of what we might see in terms of changes to Android Wear with the Lollipop upgrade.
Phandroid
has gotten some info on what to expect with Lollipop for Android Wear, and it all sounds pretty solid. One of the biggest additions is expected to be the official APIs for watch faces, which we've known for a while are on the way. This will finally allow developers to stop cobbling together standalone apps for watch faces, and get some deeper integration. There will also be some new stock watch faces and new weather icons for developers to use.
There are also expected to be better options to track the battery life and see more details on the internal storage of your Android Wear device. This should be a great improvement, given that 4GB of internal storage is fairly standard for Android smartwatches, and that kind of space can get filled up very quickly with the new local music playback options. The main menu of your Android Wear device will also start sorting itself by the most used options, meaning that Settings will likely jump to the top.
The visual options for Android Wear are also looking to get an upgrade with Lollipop. There should be new brightness options introduced with new Theater and Sunlight modes, which you can probably guess what they'll do. Theater mode will drop your watch to a lower brightness level for the low-light situation of a movie theater (it would also be a nice option for when you're driving at night); and, Sunlight mode would increase the brightness to make it easier to read when you're outdoors. There are also expected to be visual accessibility options, like color inversion, larger text, and magnification options, for the visually impaired.
There may be more coming, but we don't know quite yet. This still seems like a nice update, but of course, we also don't know when this update is expected to drop. But, we'll let you know as we find out more.