Android Wear, Apple Healthbook, and the start of Galaxy S5 pre-orders: weekly news round-up
2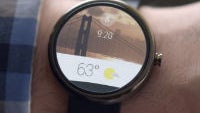 Well, it looks like smartwatches are here to stay, and Google could be one of the main driving force behind their broader adoption. Last week, the company announced its Android Wear platform, which is meant to make Android get along really well with wearable gadgets. Developers who wish to join in the fun are free to take the Android Wear SDK Developer Preview for a spin.
In Apple-related news, a new iOS app called Health book has been leaked, proving that Apple is serious about turning its mobile devices into health and fitness tracking accessories. If the new feature ever sees the light of day, it might be announced alongside the rumored iWatch, or together with a future major release of iOS.
And if the Samsung Galaxy S5 is the phone you're most excited about, then we bring good news. Samsung announced where and when the new phone will be on display, along with the dates on which US carriers will begin accepting pre-orders for it.
For more details, just follow the links below.