Samsung announces global preview and pre-orders for the Galaxy S5, Gear 2 and Gear Fit
18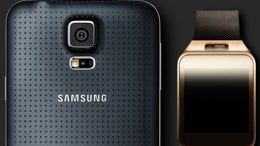 Samsung just announced that it's ready to offer a global preview of its latest high-end smartphone, the
Galaxy S5
, and its newest wearables: Gear 2, Gear 2 Neo and Gear Fit. In Samsung's own words, all four new devices "are on display and available for pre-order at more than 1,400 shops around the world beginning on March 21, 2014."
The US and Switzerland are the first countries where pre-orders will be open. As we told you earlier today,
AT&T
and
U.S. Cellular
already confirmed that they'd take pre-orders Stateside starting March 21, for $199.99 on contract.
T-Mobile
will accept pre-orders come March 24. Verizon and Sprint will probably do it petty soon, too.
Overall, the Galaxy S5 and the Gear wearables will be available for preview and pre-order in 61 countries around the world, including the UK, Germany, Brazil and China. Customers should be able to find the new products at Samsung Experience Stores, major retailers, and mobile carrier stores.
"The new Galaxy S5 and Gear devices are designed for what matters most to our consumers. We listened closely to our consumers when designing these products, and we want to give as many customers as possible the enough chance to experience of Galaxy S5, Gear 2, and Gear Fit before they purchase," declared Younghee Lee, Executive Vice President of Global Marketing, IT& Mobile Division at Samsung Electronics.
So, are
you
going to buy a Galaxy S5 (pictured in the gallery below)? What about a
Samsung Gear 2, or a Gear Fit
? Let us know in the comments section. And do keep in mind that, although pre-orders are available from this month, all these new Samsung devices will be properly released only starting April 11.
source:
Samsung