Android 4.3 firmware for the Galaxy Note II has leaked in the wild
13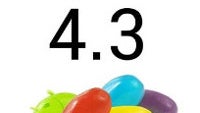 A test Android 4.3 firmware for theSamsung Galaxy Note II (N7100) has been leaked on the boards ofVietnamese Tinhte by forum member HappyKing. The early build comesafter only a week or so ago Samsung started testing the latestiteration of the Google platform on the Galaxy Note II.
If you're familiar with the crowd over atthe XDA forum boards at all, then you can probably guess that the firmwareis already up and ready for downloads from several mirrors. Keep in mind that while thefirmware has been so far reported stable, this is a test version sothread carefully and go through the usual back-up checks if you'replanning on doing some flashing.
So far, the new update has broughtthe Note II's UI up to speed with its successor, the Note 3. A lot offeatures, among which Samsung Knox and Samsung Wallet have also beenadded, and we can only guess that more are to come. What's probablymost important, though, is that some users have reported that performancehas increased, though we can't confirm this right now.
Thanks for the screenshots, Parth!