Android 4.1 Jelly Bean keyboard ported to Ice Cream Sandwich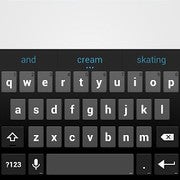 So, let's say you want to give that
Android 4.1 Jelly Bean intelligent keyboard
a try, but the device you are holding on to still runs Ice Cream Sandwich. In that case, there is something at the Google Play store you might want to check out. We are talking about a port of the Android 4.1 keyboard, which has been published just days ago, yet has already generated tens of thousands of downloads.
Think of it as a sneak preview, however, as this Jelly Bean keyboard is in an alpha state and there's probably still some glitches that need to be ironed out.Word prediction and auto-correction are supported only in English for now.
Interested? Then just follow the link provided below, and don't forget to tell us what you think of the app once you try it. Just remember to read the installation instructions carefully in advance.