And they're off: AT&T improves Churchill Downs connectivity for the Kentucky Derby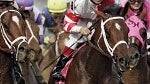 Perhaps we all take it for granted in this day and age, but when 150,000 people fill up Churchill Downs in anticipation of the running of next month's Kentucky Derby, most of them will be
toting smartphones
that will be battling for network connectivity. AT&T customers will have the exclusive use of the enhancements that the carrier is adding to the famous race track. This way, while they are sipping a Mint Julep and trying to handicap the race, AT&T customers will have no problems calling their best buds to get help picking the winner.
So what did the carrier do to the race track to improve connectivity? Along with a third party wireless provider, AT&T added antennas throughout the grandstand, suites, and premium seating areas at Churchill Downs. Six Compact A/C Radio Telephone Sites (CARTs) have been placed in the Churchill Downs infield and
two COWs
are in the area surrounding the track. No, these are not for a post race feast. The COWs are actually mobile Cell on Wheels that offer added network capacity. AT&T often has COWs driven in to events where the added capacity is forecast to be needed.
The 139th running of the Kentucky Derby will take place May 4th and is the first leg of horse racing's Triple Crown.
"Churchill Downs is committed to providing exceptional wireless coverage on Derby day. Our collaboration with AT&T will bring the latest wireless technology to Churchill Downs and address the coverage and capacity issues when folks are using their wireless devices to capture those photos, utilize social media and make calls."-Kevin Flanery, president, Churchill Downs Racetrack
source:
AT&T