Analyst ups the Q4 iPhone sales estimates to 30 million, US alone could account for 10 million of them
25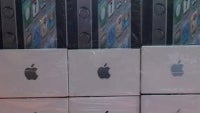 Based on Apple's stellar last quarter, when it sold 20.34 million iPhones, a lot of analysts are updating their forecasts for Q4, based on the eventual September release of the next iPhone.
Walter Piecyk from BTIG Research upped their 21.5 million previous prediction to the nice round number of
30 million iPhones sold
. We don't know if Apple will be able to pull this off, but the analyst is counting in the alleged appearance of the iPhone in Sprint's stores for the first time, which always creates a hype.
Thus he expects the fifth iPhone iteration to sell 5 million with its good ol' buddy AT&T, 4 million with Verizon and 1.5 million with the newcomer to the iPhone party Sprint.
Out of the rest, roughly 20 million handsets, a lot are expected to be sold in Greater China and other Asian regions, where Apple made a breakthrough last quarter. Considering the talks about not one, but
two iPhone versions for China Telecom
, and the
iPhone possibly arriving at the largest carrier in the world
, Cupertino may surprise analysts again after all is said and done during the holidays.
via
BGR