Amosu introduces a 24ct gilded iPad with diamonds
1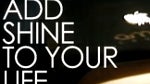 You think that the iPad is thick and heavy, and are waiting for the
next, slicker model
? Well, how would you feel when you have it gold-plated with 24ct gold, and diamond incrustations to boot?
Pretty good we'd assume, and that's precisely what the luxury shop Amosu is counting on. After
working its magic on BlackBerrys
, diamond iPhones and Nokias, the designer team of Alexander Amosu has moved onto greener (or, should we say golden) pastures. The iPad is available in 24ct gold, or you can order it with silver, white gold, rose gold or any color of your choice. The diamonds are Swarovski, and also available in any color.
The prices for the gold&diamond versions of the iPhone start from ten thousand pounds, and that's for the 3GS, so Apple's tablet almost feels a bargain at £1799 ($2807) and £2799 ($4367), with the Swarovski Apple logo. A full view of the golden iPad is in the promo video below, for your viewing pleasure.
source:
Amosu