AmazonFresh lets you do your grocery shopping on your phone, app exclusive on Windows Phone
2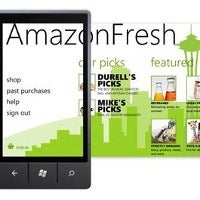 Have smartphones taken over our lives? Not until we start grocery shopping on our cell phone. And now Windows Phone can proudly brag about being the first platform to deliver a native
application for AmazonFresh
, the company's grocery delivery service. There are some limitations though – was it for Seattle's rainy weather or for some other reason, the application is only available in the greater Seattle area, making it interesting to only a limited number of people. Those lucky few however will enjoy
same day delivery
and a good looking interface.
Owners of the iPhone can also order from the retailer's website with similar functionality, but an app is hard to beat in terms of usability. Pair usability with a
price tag of zero
and we see no reason why you wouldn't want to get the application.