Amazon puts out ViewSonic ViewPad 7 on sale for $600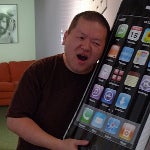 Haven't you always dreamed of a 7-inchtablet on which you can make phone calls? We won't blame you if youhaven't, we are also a bit skeptical about that new trend. But it isout there, it is a fully functional tablet and it is on sale for $599on Amazon.com. We are talking about the ViewSonic ViewPad 7, where 7is for the screen size, not the OS, which for good or bad is Android2.2 Froyo in all its glory.


Now, we just saw Samsungmake a showyappearance with the Galaxy Tab at the sameprice tag and ViewSonic is not far behind. We don't see however whatmight tilt the scales to the ViewPad 7 except the voice call support.The processor is running at a slower 600 MHz rate and screenresolution is noticeably lower at 800x480 pixels. GPS, Wi-Fi,Bluetooth and microSD support are on board just ason Samsung's tablet. This would be all good with us if the ViewPad 7went on sale at amuch lower cost, but at the current price tag it looses much of itsappeal. And with the GalaxyTab hacked to make voice calls on the T-Mobile network,this might be a deal-breaker. Did anyone order the ViewPad 7 already?Let us know what you think.
source: Electronista via AndroidGuys