Amazon matching Google Play deals
3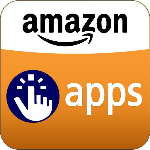 Amazon hates having higher prices than anyone. It's essentially an unwritten rule of the site: if a price drops somewhere, the price drops at Amazon as well, and of course the Amazon Android Appstore is not immune to this treatment. We told you yesterday that with Google's re-branding of its content stores into Google Play, there were sales that went along with that. Google had made an album, a book, a movie, and an app
just 25 cents
each in honor of the day, and also dropped
25 other Android apps
to just 49 cents.
In honor of not getting undercut by Google, Amazon has dropped the price on many of the same items. The same album (
Now That's What I Call Music #41
), book (
Extremely Lound and Incredibly Close
), and app (Where's My Water) are matching the 25 cent promotion from Google, and every app that Amazon has from the list of 25 have also dropped to 49 cents. The only item that hasn't gotten the price-match is the movie rental (
Puncture
) which still costs $3.99 on Amazon.
Of course, Amazon doesn't have all of the content in an easy to find page like Google does, and Amazon doesn't have all of the same apps available in its Appstore that Google has in the
Android Market
Google Play Android Apps Store (is that really the name we have to use from now on?). Still, if you don't have access to the Google Play Store, you can still get the deals from Amazon. We'll give you the link to the
Google promo page
, and you'll have to search
Amazon
yourself for the apps though.