Amazon is reportedly interested in buying Boost Mobile
6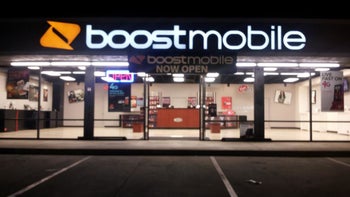 T-Mobile and Sprint said earlier this month that the combined company would sell Sprint's pre-paid Boost Mobile unit as part of some conditions it agreed to in order to appease regulators. Well, the good news is
that it worked on the FCC and its Chairman Ajit Pai
, but failed to excite DOJ antitrust chief Makan Delrahim. The latter is concerned that the deal will reduce the number of major U.S. carriers to three even though that third carrier would be nipping at the heels of AT&T. Yesterday, we told you that a new report says that Delrahim will demand
that T-Mobile and Sprint help create a new carrier to replace Sprint
in return for DOJ approval.
According to one securities house, Boost has 7-8 million subscribers and could be worth as much as $4.5 billion if some wireless spectrum is included in a deal. There are reportedly several companies putting together bids for Boost Mobile and
according to Reuters
, one of them is Amazon. The news agency cites a pair of sources in its report and says that Amazon is interested because the deal would allow it access to T-Mobile's network for six years. Amazon is also allegedly interested in purchasing any wireless spectrum that the combined T-Mobile-Sprint would be forced to divest if they close on their merger.
While this interest in buying Boost seems to come out of nowhere, Amazon's interest in the industry isn't completely a surprise. The company has been moving into new businesses ever since it started as an online seller of books in the mid-1990s. The company has grown so fast and last year it became the second publicly traded U.S. company to reach a valuation of $1 trillion. With its line of Echo smart speakers and smart displays and the Amazon Web Services (AWS) cloud services unit, Amazon is considered a tech company with a huge customer base. With its ability to reach a massive number of customers through various platforms, and its focus on undercutting competitor's pricing, owning Boost Mobile might be right up Amazon's alley. Ironically, any purchaser of Boost Mobile will have to face FCC and DOJ approval.
Amazon could face plenty of competition for Boost from companies rumored to be prepping bids such as pre-paid carrier Q Link Wireless, Boost founder Peter Adderton and a number of cable firms and private equity groups. But selling Boost Mobile to Amazon might be T-Mobile and Sprint's best chance at fulfilling the Justice Department's alleged demand that the two help create a new carrier. And if there is one thing that Amazon is very good at, it is fulfillment.