Amazon adds X-Ray info to Instant Video TV shows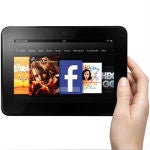 On the same day that Google added it's info cards to some of its
Play Movie
videos, Amazon is making its
X-Ray
offerings even better by extending it beyond its current offerings and now adding the X-Ray info to some of the most popular TV shows offered through Amazon's Instant Video service. Amazon's X-Ray info has been available on movies on the Kindle Fire tablets, but now it has added popular TV shows to the mix.
Now, you'll be able to get IMDb data for your favorite actors in shows like Justified, Downton Abbey, The West Wing, Sons of Anarchy, Falling Skies, American Horror Story, Grey's Anatomy, Doctor Who, The Walking Dead, Lost, Glee, Breaking Bad and Game of Thrones. That's a pretty solid selection.
The only trick is that you have to enable X-Ray info before you start watching a video to get the info. And, of course, the feature is only available to Kindle Fire tablet users, and surprisingly to Wii U users who have the Amazon Instant Video app on their Wii U GamePad. No word on if the feature will also spread out to the iOS and Android apps though.