Amazon Kindle Fire is graced with its very own USA Today app
0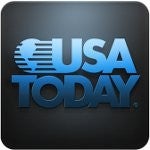 Can't get enough reading on your
Amazon Kindle Fire
? Well, you'll probably be a teeny bit ecstatic to know that the budget friendly Android based tablet is being graced with its very own
USA Today app
. And no, it's not a simple port of the smartphone version available to Android devices, but rather, it has been retooled to specifically work on the Amazon Kindle Fire.
Available now for download in the Amazon Appstore, USA Today is going big on the popular tablet as the app tailors to the needs to readers all around. Boasting headlines such as News, Money, Sports, Life, YourLife, Tech, and Travel, the app also offers photo galleries from its popular features such as The Day in Pictures, Day in Sports, and Day in Celebrities.
free
, but it's actually
ad-sponsored
by Volkswagen – so don't be surprised to see some vehicle related ads coming up from time to time.
Regardless of that, the app should provide ample reading content to tablet owners – even more seeing that the app is specifically refined for the Kindle Fire.
via
AndroidGuys
&
FierceMobile