Amazon Appstore offers Draw Something for Amazon Kindle Fire
2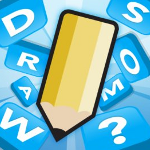 The hottest mobile game around is not Angry Birds and is not even Words With Friends. The most popular game is
Draw Something
, the Pictionary-esque game that has so much momentum that it was the reason that
Zynga paid $180 million (plus $30 million in employee retention bonuses) to buy Draw Something's developer OMGPOP
. The problem for Amazon Kindle Fire users was that the game has not been available in the Amazon Appstore. Since we earlier told you that
half of all Android tablet sales belong to the low-priced Amazon Kindle Fire
, that meant that half of all Android tablet users were missing out on the game that was the number one free app, number one paid app and number one game in 80 countries around the world.
But that is all in the past as we can happily tell you that Draw Something
is now available from the Amazon Appstore
in two different versions. There is the free app which is supported by ads, and the paid version of the app which costs $1.99 but has no ads. For those of you who have no idea how the game works, check out the official trailer made by OMGPOP. It is for the version of the game that was made for the Apple iPhone, but all of the features are the same.
source:
Amazon
via
AndroidCentral