Kindle Fire accounts for half of all "Android" tablets sold
13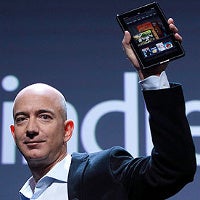 We've known for some time now that Amazon's
Kindle Fire
, with its
forked version
of Android, was the major player in the "non-iPad-tablet" market space. It had already become
more popular
than any Android tablet in January, and now comScore is reporting that the Kindle Fire sells more than all other Android tablets combined.
This shows how far Google is from its
projections in 2010
, when it hoped to capture up to 1/3 of the tablet market with Honeycomb tablets – although if you take Andy Rubin at face value when he says that he had no problem with forked versions of Android, then we suppose that "Android" is actually more successful than Google projected…just not in a way that helps their bottom line.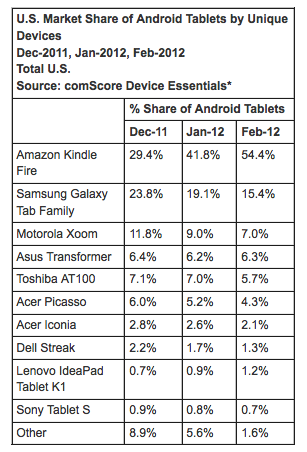 Google is surely concerned about this trend, and the upcoming "Nexus" tablet that
may be sold direct to customers
at a reduced price point is surely an attempt to change the dynamics of the game. But that puts Google in a difficult position; the success of Android on handsets is largely due to how vigorously OEMs supported it. Those OEMs didn't adopt Android out of the goodness of their hearts; they did it because Android allowed them to put out smartphones that could compete with the iPhone without having to develop their own mobile OS.
If Android tablets only compete by selling them as
loss-leaders
, there probably will be much less hardware support, and that could create an opening for some other platform, perhaps Windows 8, to attract OEM support (perhaps this puts Google's purchase of Motorola into a more strategic light, since we don't imagine Motorola will be straying from the Android ecosystem anymore).
Obviously there's still plenty of time for this to play out over, but it appears that tablets are going to hit commodity pricing much faster than smartphones, which seems strange, given that tablets have a similar bill of materials and a larger screen. How that impacts Android OEMs, Apple's iPad pricing, and whether it creates an opportunity for Windows 8 simply drains the profits margins from the market before Windows 8 tablets launch all will be very interesting topics to keep our eyes on in the coming year.
source:
comScore
via
TechCrunch