Amazing Alex tops charts and attracts over 3,500 user levels
4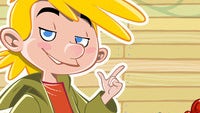 It has only been a few days since
its release
, but the much-anticipated non-Angry Birds release from Rovio, Amazing Alex, has managed to top the charts. Continuing the tradition of hits at Rovio, the 99-cent iPhone version of Amazing Alex is the best-selling iPhone game in 35 countries, while the $2.99 HD version is the best-selling iPad app in 50 counties.
It's not just downloads either – in addition to 100 levels the game comes with, Amazing Alex allows players to make and share additional levels. In less than 48 hours, Amazing Alex players managed to generate over 3,500 levels.
If you're late to the party, you can
check out our review
then grab Amazing Alex for iOS for
$0.99
and
$2.99
for the regular and HD versions respectively. Android users can head on over to the Google Play store to pick up an ad-support copy for
free
, an ad-free experience for
$0.99
, and an HD variant for
$2.99
.