Amazing Alex Review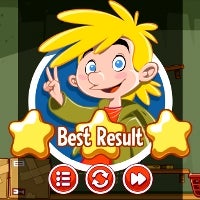 We had no doubts that the Finns from Rovio are good at what they do, and their first game after the megasuccessful Angry Birds franchise proves it once again. A highly addictive physics puzzle game,
Amazing Alex
gets under your skin with a simple and engaging gameplay.
Granted, the feel is based on the rights Rovio acquired for Casey's Contraptions, there are elements of Cut the Rope and others, yet it's a great mixtape, and the
menus and interface buttons have an Angry Bird-ish whiff to them
, which makes it all the more comforting to play. The game for iOS and Android itself costs $0.99, while the Classroom tutorial level is a free app download for Android, and then comes an Amazing Alex HD version for $2.99.
First off, the game is challenging and requires patience and thinking rather than brute force that will blast you through the levels, which will make you spend many, many hours with it, and that's what every game developer aims for. Yet the levels are hardening pretty gradually, so you don't throw your iOS or Android device to the wall with frustration.
You start off simple, with the Classroom level, where you have only a few of the
35 objects you can interact
with to reach the level's goal - balls, benches, books, boxes, balloons and scissors. Too many an object starting with the letter "b"? Well, it's what it is. The tutorial gives you the basics of how to interact with an object, which includes sliding it with your finger somewhere on the screen to create a bridge, a hurdle, a swing, bounce or domino effect, or simply pop those balloons for extra credit. Then you can rotate it around anyway you please, until it gets in the desired position. The level's goals here can be as simple as getting a football in a basket via a ramp you built, to unleashing a bunch of balloons to collect stars for points and then pop them in the end.
Then the real fun begins with the hundred levels, each representing a unique riddle that has to be solved based on what you've learned by interacting with objects in the previous levels, and based on tips what to use for the current one. Buckets, ropes, vacuum cleaners, toy trucks, and a whole lot of other assorted household stuff can be used to get there, but we won't spoil the party. There is also a
level creator
to build your own puzzles and slip them over to friends to bust their heads with.

It's tons of fun, as they say in "Mallrats", and a very, very addictive game, so Rovio might easily have another hit on their hands. It is unlikely to reach the Angry Birds heights simply because there are no memorable personages to put on tees and coffee mugs, but it surely keeps your brain cells firing on all cylinders, as the levels gradually reach Heath Robinson level of complexity.