Adobe is integrating a voice assistant into a photo editing app with futuristic-looking results
2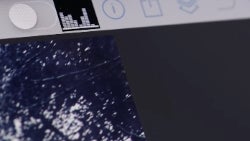 Photo editing on smartphones and tablets is already a breeze, thanks to a large selection of apps with streamlined interfaces and ready-to-go tweaks such as filters, overlays, and frames. What's the next frontier for taking mobile photo editing apps to another level of awesome? Adobe thinks it's voice commands!
The Photoshop creators demonstrated a mobile photo editor with an integrated microphone button. Tapping it activates a voice assistant that quickly performs simple functions such as cropping and reframing, guided only by the user's voice.
Adobe boasted that its speech recognition system is capable of accepting voice commands for image editing locally, through on-device computing, and via cloud-based natural language recognition service. The company's end goal is accomplishing a "multimodal voice-based interface" that makes searching and editing images easy and engaging.
While the video Adobe showed is merely proof of concept, the company is obviously working on it and is keen on innovating by taking advantage of developments in natural language processing and speech recognition. What do you think of the video?
ALSO READ