Adobe expects Flash Player 10.2 to perform up to ten times better than the current version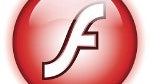 Currently in beta, Adobe Flash Player 10.2 will be optimized for lighter CPU loads, and the GPU acceleration will be improved upon, so as to achieve performance results up to ten times those in Adobe Flash 10.1, that some Android 2.2 handsets support.
Flash has been a major pain for mobile devices, which need lighter, optimized versions of everything to function smoothly, and that is why Apple ditched support for Adobe Flash in its devices, focusing on the more streamlined HTML5 instead.
Adobe hopes to remedy the performance issues with Flash 10.2, and then focus on optimizing the security vulnerabilities that are inherent to the web video and animations platform. Ten times faster Flash with minimal CPU load would be a hit with mobile devices, but it is not for everyone. These speeds are achieved by offloading the rendering tasks to the graphics processing unit, so some phones might not be able to take full advantage of those, but most will have GPU units by the time Adobe Flash 10.2 comes out of beta.
Watch a demo of the new graphics acceleration process called Stage Video below, which showcases 10x reduction in CPU usage. The code has to be integrated in the video player for the thing to work, rather than simply installing Flash 10.2, but several popular video sites are already on it, so hopefully these improvements in Adobe Flash will trickle down to smartphones as well next year.
via
CNET