Adobe Flash updated for Android 4.0
5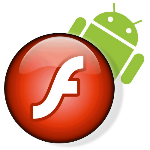 That certainly didn't take too long. The same day that the Galaxy Nexus (and therefore Ice Cream Sandwich) made its official debut in the US, Adobe updated the Flash player for compatibility with the new Android OS.
There had been some slight worry that Adobe wouldn't update Flash all that quickly and would leave Galaxy Nexus owners out of the loop, but those fears have been addressed. Today, Adobe released an update bringing Flash to version 11.1.112.60. The update really doesn't do anything except add ICS support, although Adobe does list a few known issues to be aware of, including:
Seeking while video is paused will not update the frame on ICS device
StageVideo using On2 and Sorenson does not work on ICS devices
PHDS content plays with audio pops
OS does not prioritize incoming call - audio remains playing before and after call is received
Enter key does not work on the multi-line text input field
So, Flash is there, but it's not 100%. Still, this is good news, and if you want the Adobe Flash player, it's available for free in the
Android Market
.