Acer's first appearance in the world of smartphones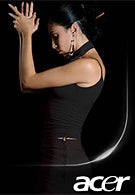 We received an invitation for Acer's press-conference, which is going to take place at the Mobile World Congress this February. It mentions "smartphones launch", suggesting that it's going to be about the company's debut in the world of mobile phones, and more precisely - the world of smartphones.
Last year, Acer has bought E-TEN, which had been specializing in Windows Mobile smartphone manufacturing. It is not certain if E-TEN will continue to exist as a separate brand, or its face won't be seen on the cell phone market any more. However, whether Acer's product will have something in common with E-TEN's previous devices, or is going to offer something new is yet unknown, but is bound to become clear on February 16. Expect our first impressions of the upcoming device, as we're also going to be at the show.
source: Acer