Acer teases the products it will be presenting at the MWC
4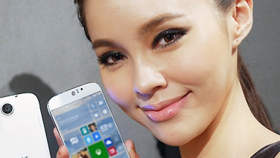 Just a couple of days ago, we heard that Acer will be announcing
a Windows Phone-powered handset
at this year's MWC, along with another Android-bearing Liquid series smartphone, and a wearable device. We have no further info on hardware or class of these devices and, today, Acer decided to dangle a teaser in front of our noses.
So, it's a collage poster, which seems to feature at least two different devices. The close-up shots of specific parts reveal stylish detail, so Acer seems to be going for sleek design. The camera that's visible in the top left would probably suggest a potent snapper on at least one of the smartphones that the company is about to unveil – we doubt it would brag about it if it wasn't proud of it. The other pictures show metal frames on the bodies of whatever devices they are on, and a subtle texture, which we assume will be plastered on the back of a handset.
Check out the teaser below, see what you think of it.