Acer Liquid Jade Primo: Hands-on
5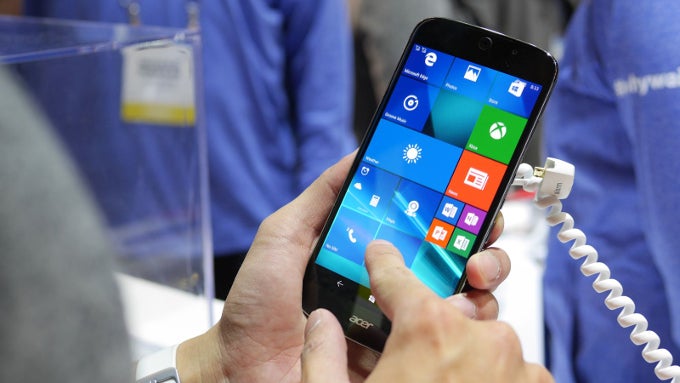 A couple of months ago, Acer announced that it's
working on a Windows 10 handset
to join the Liquid Jade lineup, named Acer Liquid Jade Primo. Here at CES 2016, we finally got a chance to take a closer look at what is currently the only non-Microsoft-made Windows 10 flagship smartphone.
Design

The Liquid Jade Primo definitely has a shinier look to it than Microsoft's Lumia 950. Acer's handset has a faux brushed aluminum finish underneath the gloss of its plastic body, which we found to be very reminiscent to the LG G3. The back is pleasantly arched and houses a noticeably big camera bulge, neighbored by a dual LED flash, and an interesting speaker grille – circular and fairly large in shape.

The front is devoid of any type of navigational buttons since Windows 10 uses software keys. On the bottom, we have a USB Type C port, which is recommended for smartphones that are to use Microsoft's Continuum. And, spoiler alert – the Liquid Jade Primo does!
Display
The Liquid Jade Primo has a fairly large, 5.5-inch display with a 1080 x 1920
pixel
resolution. Despite the fact that Acer didn't go for the dense QHD (1440 x 2560) resolution, the screen is still pretty sharp, with a pixels-per-inch density measuring at about 400. It's an AMOLED panel, offering deep blacks, vibrant colors, and wide viewing angles.
Processor and memory
Acer's Windows 10 flagship is pretty similar to Microsoft's own Lumia in terms of hardware. A Qualcomm Snapdragon 808 hums under its hood, paired with 3 GB of RAM, and 32 GB of internal storage. Seeing as Windows 10 is not an operating system that gets skins or manufacturer-specific features, the Acer runs pretty much as snappy as Microsoft intended the system to be.
Interface
As mentioned, the Liquid Jade Primo runs on Windows 10. Thanks to its powerful hardware, it also supports the new Continuum feature of Microsoft's operating system. What this means is that if you get a specialized Acer dock (separate purchase), you can use it to connect the handset to a keyboard, a mouse, and an external monitor. This immediately turns it into a makeshift PC, running all the Windows 10 essential apps – the
Edge
explorer, Excel, PowerPoint, et cetera.
As far as the phone interface goes – we've got typical Windows 10. Live tiles is what the home screen is made up of, Cortana is on board and ready to assist you. Users who have had a Windows
8.1
handset will feel at home, whereas anyone with a Windows 10 PC will also be able to draw parallels between the desktop and the mobile variant of the system.
Camera
The Liquid Jade Primo is equipped with a 21 MP sensor for its main camera, assisted by a dual LED flash, presumably for more luminance prowess, and an 8 MP selfie camera. We haven't gotten the chance to test those out yet, however.
Expectations
At first look, the Liquid Jade Primo certainly strikes us as a great solution for those who are itching to try a Windows 10 flagship, but found themselves disappointed by the design of the Lumia 950. Acer's smartphone has the same engine under the hood, but a shinier look on the outside.
The phone is
due to launch
in Europe, Middle East, and Asia, starting at about $620 (€569). US release and pricing are yet to be announced.