AUO reportedly blessed with iPhone panel orders, including a 4" one for an iPhone 7c
5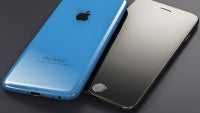 Just when one renowned analyst tipped that a 4"
iPhone 6c
is unlikely, comes the speculation that Apple has sourced AU Optronics (AUO) as an alternative display supplier for the upcoming
iPhone 6S
(or
iPhone 7
), iPhone 6S Plus, and... surprise, surprise... iPhone 6c.
Those murky "supply chain sources" are saying that Apple wants to diversify its screen panel suppliers - both for current and future iPhones, as the yields have been inconsistent from the current crop of iPhone screen panel makers. AUO is apparently in flux to start making 4.7- and 5.5-inch LTPS In-Cell displays at its L3A and 3B fabs, as well as a the elusive 4-inch panel we keep hearing about.
Other reports from Taiwanese media, however, insist that the AUO screens, including the 4" one, won't get in play until Apple's 2016 crop of handsets. Does that mean that we will have to wait for an iPhone 7c next year to know for sure if Apple is preparing another "budget" $500 handset after the
5c
fiasco? Unlikely, as we will probably hear much more about it sooner than that.