Splendid iPhone 6c renders keep the protruding camera, substitute metal for plastic
22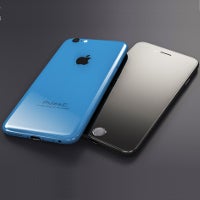 To this date, the iPhone 5c remains one of the more controversial Apple product releases. Why? Because the company basically took an iPhone 5, substituted the signature all-aluminum build with plastic, and kept everything else about the device the same. This, of course, angered some customers, as the iPhone 5 was taken off the shelves in favor of the new model, which some thought (and still think) was a cheap move. Given the absence of an iPhone 6c, this might mean that Apple agreed, though it could be that the company is simply waiting until it's time to unveil the
iPhone 6s
.
Now, despite all the negativity around the iPhone 5c, we've got to say that even we cooled off eventually, and have to admit that the phone doesn't look half bad with its far more colorful garb. This likely explains why we loved the below stack of iPhone 6c concept renders, courtesy of
3DFuture
, that envision a world where the newest iPhone has a plastic counterpart. As you're about to see for yourself, much everything else about the 6c mirrors the
iPhone 6
– from the protruding camera, down to the fingerprint scanner, speaker grill, and button layout.