AT&T's web site now shows Tilt2 and Pure
This article contains unofficial information.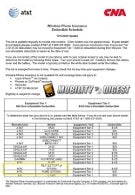 Yesterday, we
told you
that AT&T had removed the Fuze from its' web site. Considering that the model was the wireless operator's version of the HTC Touch Pro, we figured that this move was telling us that the Touch Pro2 and the Touch Diamond2 would soon be offered by AT&T. This morning, as if on cue, added to the web page was the Tilt2 (Touch Pro2) and the Pure (Touch Diamond2). Now, before you grab your wallet and head over to the web site to order, the appearance by the duo was only a mention on a list of insurance deductables for handsets covered under the No Worry Protection Program offered by AT&T through CNA. The Tilt2 will have a $125 deductable while the figure for the Pure will be $50. While we still are waiting for launch dates and pricing, at least we do have some confirmation that the two phones are making their way through AT&T's system.
HTC Touch Pro2 Preliminary Specifications
(AT&T)
source:
MobilityDigest