AGM X3 is a powerful flagship for the rugged market, complete with Snapdragon 845 and 4100mAh battery
7
We may earn a commission if you make a purchase from the links on this page.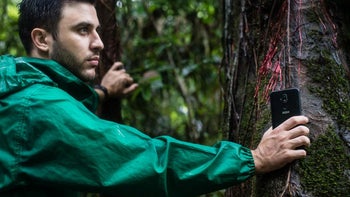 Advertorial by AGM: the opinions expressed in this story may not reflect the positions of PhoneArena!
Barring the vaporware
Galaxy S9 Active
, it's not every day that we hear about rugged smartphones with top-shelf components like a Snapdragon 845 inside. Well, calling all clutzes and campers, as the AGM X3 was just unveiled to the unwashed masses, complete with all the prerequisites of a 2018 flagship, but shielded from drops, dunks, and the general elements.

The X3 comes with a 5.99" 2160x1080 FHD+ display protected by Gorilla Glass 5, 6GB/8GB RAM and 64/128/256GB storage. These are all the makings of a high-end device, but throw in a dual 12MP primary camera + 24MP secondary camera, a front-facing 12MP shooter, as well as a hefty 4100mAh battery with Qualcomm's wireless 10W fast-charging support, and you got yourself a rugged winner.
AGM X3 balances performance, looks and durability
What's so rugged about it? Well, it has shock-absorbing suspension frame that makes the innards "float" a fraction of an inch from the housing to put cushion before the impact. The phone is IP68-certified to be dust- and water-tight, meeting parts of the military-grade MIL-STD-810G testing standard, but even then it adds extra perks like a "dual-tone" speaker system. We can attest that the intriguing dual-speaker kit sounds way louder and cleaner than on most mainstream phones, and there is a good reason for it.
The enhanced audio kit has been developed in partnership with the renowned sound whizzes from JBL. Thus, the unique rear dual stereo speakers are able to deliver a wide 400-20,000kHz range, covering all that the human ear can perceive.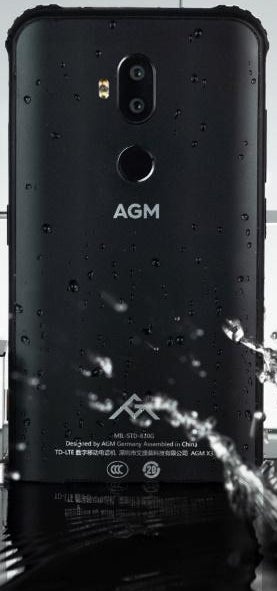 Splash or dunk, the X3 can take it
What's unique among rugged Android phones, however, is the performance of AGM's X3 beast. Equipped with clocked-up Snapdragon 845, it delivers benchmark scores ahead of the best out there, like the Galaxy S9, as the X3 is unhindered by heavy Android overlays - it runs stock Oreo out of the box. The only ho-hum part is the largish body, but the phone is relatively svelte for what it is, and the tall and narrow aspect ratio makes it easier to handle than the rugged phones of yesteryear.
Did we mention it has face-scanning unlock? It does, as every self-respecting top-shelf phone these days, as well as a finger scanner on the back. Adding to the outdoors-y chops of the phone, AGM has provided its own set of Tools that includes sensors to detect ambient temperature, relative humidity, and atmospheric pressure.
Perhaps the most jaw-dropping fact about the new rugged AGM X3 flagship, however, is that it has a "geek" version with an antenna housing that turns it into a satellite phone, so you don't even need the GPS system to stay on track, at least in China where the system is operational.
The pricing for this tough puppy? It will likely be starting from about five Benjamins when the global version hits the tape this month, though there is an exclusive crocodile-pattern JBL set model that will probably set you back a bit extra.
Still, a tough phone with Qualcomm's top-shelf 8-series, stellar audio, and a fairly elegant body for what it is? You don't get those every day.
Recommended Stories