A word from Adobe's developer conference hints that Flash support for Windows Phone 7 is imminent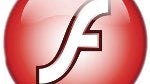 One of the much talked about issues with the infant
Windows Phone 7 OS
(along with the equally heated discussion about the missing, but much needed copy-paste function) was the lack of
Flash
support. But a word came from Adobe's worldwide developer conference, also known as Adobe MAX, that this issue is going to be addressed in the not too distant future. The precise wording from the press release is as follows:
"With Flash Player 10.1 available on Android and Google TV today, BlackBerry platform, webOS, future versions of Windows® Phone, LiMo, MeeGo,and Symbian OS are also expected to support Flash Player 10.1."
This information will surely put a beaming smile on the Windows Phone 7 well-wishers and the moment it comes in effect, the Flash support will provide a timely boost for the new mobile OS. This is naturally a good news for Limo, MeeGo and Symbian OS as well, but the truth is that these days most of the attention is focused on Microsoft's make-or-break new mobile OS.
source:
WMPoweruser