A new research deals with VR motion sickness in an innovative way
4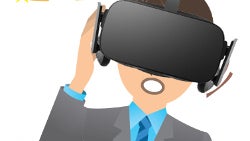 VR is still the new kid on the block, looking for a place where it would feel more comfortable and best accepted. Currently, it's best experienced with a high-end PC and top-shelf gear like
HTC's Vive headset
, but Google and Android smartphone manufacturers
are hard at work
trying to make mobile devices the staple of VR experience.
One of the biggest hurdles VR needs to get over is the so-called VR sickness. Google's Daydream partners are looking to remedy it by building top-notch smartphones, which can react to head movements
in less than 20 milliseconds
. However, researchers believe that this may not be enough.
In most VR gaming scenarios, we are usually using a controller to move around the world. That only makes sense, since no one has a vast room with no walls and furniture to trip over, and the technology to track full body movements would be much, much more expensive and niche. The problem that sitting in one place creates is that when your brain is immersed in the VR world and sees movement, but your body is, in fact, sitting motionless, dizziness and nausea are quick to occur.
A team of researchers from Columbia University Engineering's Computer Graphics and User Interfaces Lab has been working on an interesting workaround for VR sickness caused by movement in the world. They have created a special software, which very gradually places a field of view (FOV) restriction on the user's vision when they walk for long periods. According to the researchers, the restriction comes up so slowly, the user can't perceive it. As a result, at full move speed, peripheral vision is limited, effectively forcing the brain to focus on points that are further away from the player.
The team tested this new solution with a group of 30 people, all of which played through the demo with FOV restriction on and off. The testers had to follow the same route, pointed out by easy-to-see waypoints. At every 5 waypoints, a prompt would ask the user to evaluate their current level of (dis)comfort. Unanymously, all 30 testers had a better experience with the FOV auto-restriction on.
source:
Columbia Engineering
via
Digital Trends