$99 will now buy you a refurbished Apple iPhone 4 with activation by AT&T
6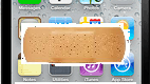 Now that the holiday shopping season is over, AT&T has dropped the price for a refurbished Apple iPhone 4 to $99 for the 16GB model. The 32GB model will cost $199. If you don't mind a cosmetic blemish on the device, a 16GB unit will run you just $79 or $179 for the 32GB unit. The phones must be purchased online and a 2 year contract needs to be signed. The device must be activated through AT&T at a cost of $36. Shipping, however, is free.
For those interested in the Apple iPhone 3GS, a refurbished 8GB model is $29, a 16GB model costs $49 while a 32GB unit is $79. All require the signing of a 2 year pact. Finally, an Apple iPhone 3G with 8GB and a cosmetic blemish will run you just $19 with a 2 year deal.
All of the refurbished Apple iPhones, whether the iPhone 4 down to the iPhone 3G, also require you to pay a monthly data charge of at least $15.
For your piece of mind, the carrier has tested the phones and has re-boxed them. An AT&T rep says that Apple will honor what is left of each unit's original 1 year warranty while AT&T has a separate 90 day warranty on each refurbished Apple iPhone. For more information, check the source link.
source:
AT&T
via
9to5Mac