7,000 third-generation Apple iPads to be used by Airport Restaurant operator to entertain guests
5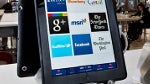 Restaurant operator OTG runs a number of eateries that are located inside three major international airports. The company
ordered 7,000 third-generation Apple iPads that will be used by its customers
to order meals, play games, track flights and browse the internet. The rollout of 7,000 iPads is the largest consumer deployment of the tablet in the world according to OTG CEO Rick Blatstein, and is only bested by Apple itself with the Apple Stores.The executive said that the Apple iPad is the perfect device for travelers at the airport since many are familiar with iOS.
"We're starting with seven plus thousand rolling out," Blatstein told AppleInsider in an exclusive interview. "But as we continue to roll out I expect it to be in the tens of thousands and maybe in excess of 100,000 in the coming years. They're fun, they're comfortable to work with and now with the [Retina Display], the screen quality is spectacular. It's a natural."-OTG CEO Rick Blatstein
During OTG's test program, the company used the OG Apple iPad and thus far has replaced 400 of the older model with the latest iteration of Apple's tablet at restaurants in New York's LaGuardia Airport. The are still another 2,000 first-gen iPads that need to be replaced in that Airport. Over the next 18 months the Minneapolis-St. Paul International Airport will receive an additional 2,500 tablets with another 2,500 penciled in for use at Toronto Pearson International Airport. Blatstein says it will take a year for all of the 7,000 units to be deployed. He also expects to have an
Apple iPad available some day for every seat in every OTG restaurant
along with an AC outlet and a USB port. "
No more sitting on floors like we've always done to try and charge up our devices," Blatstein jokes. "You can sit at a bar; sit at a table and charge your device. You can work on the
iPad
and really enjoy yourself. Get your time back
."
The tablet is loaded with custom software including an ap that runs in the background to keep users updated with information about their flight. Each unit also has a per-use security system that wipes info with a push of the home button. This
allows users to view sensitive material like bank accounts and social networking sites
. A unique central management system lets OTG send out firmware and other updates to all of its tablets quickly. The company plans on adding a virtual storefront to sell items that would useful for a plane ride such as pillows and headphones that could be picked up after checking out of the restaurant.
And there are jobs available. OTG is looking for independent developers to write apps for its customers.
source:
AppleInsider