5 casual racing games for Android and iOS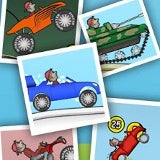 If there's a genre of video games that even women openly enjoy, it has to be racing games! Yep! And with the recent rise of casual gaming, what could be more popular than... casual racers? Interestingly, there are many "small" titles of this kind that are yet to make a name for themselves, but that's exactly why we've gathered here today. This isn't the kind of post that will praise the "HD" graphics of games like Asphalt or Need For Speed. Nope. It might be cool to remind ourselves of the excessive power possessed by our smartphones nowadays, but this post is about something else - it's about those indie racers that may lack the gloss, but certainly know how to make you smile and have tons of fun.
So, here it is - our selection of 5 casual racing games for Android and iOS!