4.7-inch iPhone 6 screen glass images leak out: black and white models compared
59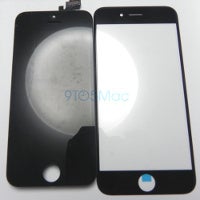 The upcoming iPhone 6 is said to enter mass production in July, and just days before that timeframe, we're seeing an influx of leaks. This one in particular is our first sighting of the supposed screen glass of the 4.7-inch iPhone 6, and you can see very clearly that there is just a slight curve around the edges. While earlier rumors have speculated that we might see a curved screen on the iPhone 6, this latest leak shows that the curve might be a very subtle one.
Such supposed tapered edges of the next iPhone should make it easier to slide your finger from the edge of the display. Swipe gestures are already in use since iOS 7 in first-party apps like Safari where swiping from the left brings you back a page in the browser, but we can imagine this new display could allow for more proliferate use of gestures. That's nothing, but a guess, though.
This leak is one more evidence that Apple could indeed start mass production of the iPhone 6 in July
So far, the 4.7" iPhone 6 is said to come with a higher resolution (likely 960 x 1704 pixels), and a brand new Apple A8 chip. Moreover, expectations are high for the camera in the iPhone 6. KGI Securities posted a note saying that while only the 5.5" iPhone 6 is expected to feature optical image stabilization (OIS), the 4.7" model will also benefit from a new type of voice call motor (VCM) that will allow it to lock focus quicker and also save power.
Apple is also expected to introduce new sensors, and barometer in particular is named as the most likely candidate. As for the oft-rumored sturdier, sapphire glass cover, it's a feature said to be reserved for the 5.5" iPhone 6.
Update:

We've added a full gallery of the leaked cover glass.