24 carat gold BlackBerry Q10 now available, costs $2500
55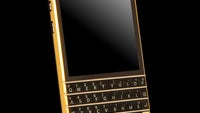 If "rich" and "famous" are two of the words that you'd "humbly" describe yourself with, then the newest smartphone prettified by Goldgenie may suit you well. What we're dealing with is a sparkly
BlackBerry Q10
dipped in 24 carat gold, delivered to your doorstep in a premium wooden box. Looks pretty, doesn't it?
Yet luxury gadgets of such rank come at a steep price. This particular BlackBerry Q10 modification will set you back £1597, which equals to about $2472. That's enough money to buy about four stock
iPhone 5
handsets at retail price, by the way. In case you're wondering, the innards of the BlackBerry Q10 have not been modified in any way, so its specs are identical to that of a retail unit. The smartphone is delivered unlocked and SIM-free.
The BlackBerry Q10 isn't the only smartphone that Goldgenie's craftsmen have treated to a golden outfit. 24 karat iPhones and iPads are also among the products offered by the company. To check out its entire collection of luxury items, feel free to visit its web page, available at the source link below.
Recommended Stories