Unicode examines 236 draft candidates vying for inclusion in Emoji 12.0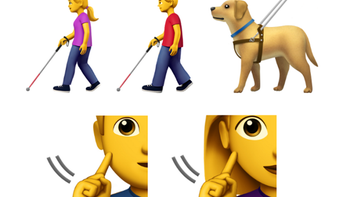 The Unicode Consortium is the non-profit organization in charge of approving any new emojis or making a change to an existing one. Today, Unicode announced that the Emoji 12.0 beta is made up of 236 draft candidates. Many of the new emoji deal with disabilities including an ear with a hearing aid, a deaf male/female deaf communicating with sign language, a man/woman with a cane, a man/woman in a wheelchair (both manual and motorized) and a service dog.
Apple, one of the companies belonging to the consortium with voting power, submitted the apps dealing with disabilities and accessibility. Some of the emoji submitted by the company can be seen in the images found at the top of this article. Other companies that have voting powers include Adobe, Facebook, Google, Huawei, IBM, Microsoft, Netflix, Oracle, SAP and Shopify.
The 236 draft candidates for Emoji 12.0 can be broken down into certain categories:
People & body-209
Objects-15
Miscellaneous symbols-12
Food & drink-9
Animals & nature-7
Travel & places-6
Activities-3
Smileys & emotion-3
We can expect to see Emoji 12.0 released next March.