2018 edition Nokia 6 hands-on: one of the best mid-rangers got better
6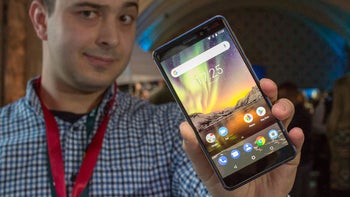 The Nokia 6 from last year wasn't the best smartphone money could buy. Instead, it was made to be an excellent offering in its price range – a goal that was ultimately achieved. Following the same approach, the 2018-edition Nokia 6 is to launch globally in the coming months, and at MWC 2018, we had the chance to take it for a spin.
Once we picked it up, we instantly noticed that the new Nokia 6 has adopted a lot of the design DNA of its predecessor. It still feels solid in the hand with its flat sides and metal construction. But some things have changed. For instance, the fingerprint reader is now at the back, below the camera, while the capacitive physical buttons have been replaced by on-screen ones. The contrasting color accents are attention-grabbing, but in a good way, and add character to an otherwise not-so-flashy smartphone.
Extra-tall, 18:9 displays may be all the rage now, but the Nokia 6 sticks to a more traditional, 5.5-inch display with standard, 16:9 proportions. The good news is that the screen looks bright, sharp, and colorful to the naked eye. Under the hood ticks a Snapdragon 630 chip, and it seemed to be handling the lightweight UI really well. On the software side, the new Nokia 6 runs an up-to-date version of Android One – an Android flavor built to be free of bloat and quick to receive updates. The only major software tweak made by HMD would be the addition of a new camera app.
The new Nokia 6 features a 16MP main shooter with Zeiss optics and 4K video support. We were not able to test its performance during the brief demo session, but we did get to try out Bothie mode, a feature adopted from the Nokia 8 where images are shot with both the front and rear cameras simultaneously. PRO mode is also available, giving you manual control over all important image settings.
Battery capacity hasn't really changed much: inside the new Nokia 6 is a 3000mAh battery. What's new, however, is the addition of fast charging though the USB Type-C port at the bottom.
All in all, the Nokia 6 2018 is shaping up as a well-rounded mid-range phone with no immediately obvious shortcomings. The only downside is that it will not be launched before May of this year, and by then, the competition in the $250-$350 price range would surely be a lot more intense than it is today.