10 must-have iPad games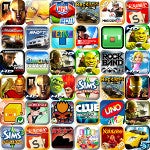 So, you've just bought a new iPad, or are waiting for it to ship in the following days... That's great, but we know that one of the first things a user does when they get a new iPad is to download some cool games to it. However, this might actually be a bit more difficult to accomplish than it seems.
You see, the thing is that the App Store is packed to the brim with all kinds of games, and not all of those are worth your time. Meanwhile, there are some total hits out there that you absolutely shouldn't miss, no matter what types of games you usually enjoy. What you'll find in the gallery below is just that - a selection of 10 of the finest, most addictive, sweetest and ingenious games ever made. Games, that every self-respecting iOS user should play, at least once (although we know this isn't possible with
these
titles).