10 iPhone 6 bumper cases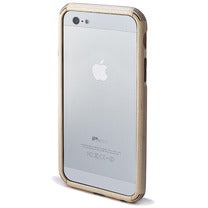 Having an iPhone has its advantages, one of them being the vast array of accessories you can pimp your handset with. The number of iPhone cases, in particular, is surely in the thousands, if not higher. And the iPhone cases come in many forms – some are thick and heavy, made to withstand serious drops on hard surfaces, others are light and minimalist, covering as little of the iPhone as possible. This post is about the latter kind.
We did a little digging on the internet in search of the best
iPhone 6
bumper cases – cases that protect the sides and corners of the iPhone 6 against damage, yet leave its pristine back side exposed, letting your fingers enjoy touching its metal surface. This is what we came up with – 10 iPhone bumper cases ranging from fancy and expensive to basic and affordable. Check them out!
More iPhone 6 and iPhone 6 Plus cases and accessories: