10 cool smartphone camera accessories
5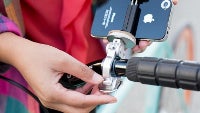 Smartphones are not just miniature computers within easy reach in your pocket at all times - they also have capable cameras that in many occasions can replace a dedicated point-and-shoot camera. The best camera is the one you have with you after all.
But if you want to take smartphone photography skills to the next level, you might want to get a couple of accessories to reveal the camera's true potential. The first and most obvious ones might be tripod mounting systems, but there is much more than that.
From creative lens add-ons to external microphones, you can truly equip your smartphone to become your only camera, especially if you don't obsess over low-light performance. Here are 10 smartphone camera accessories that you can get right now, and that can help you with your cameraphone ambitions.