Apple iPhone 13 Pro Max vs iPhone 13 Pro
16
We may earn a commission if you make a purchase from the links on this page.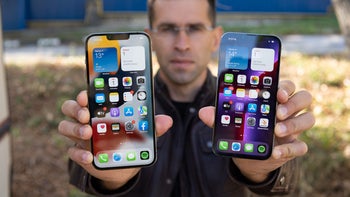 The
Apple iPhone 13 Pro Max specs
place it firmly on top of the
iPhone pile
in the history of iPhones, and the
iPhone 13 Pro
sits right below it, warranting a comparison between Apple's two 2021 juggernauts.
Not only did they get the good stuff, i.e. the 120Hz refresh rate ProMotion displays, but also the cameras turn out different. Larger sensors for the main camera and a brand new ultra-wide camera with a cool new macro function, plus a longer 3X range zoom lens make for the most capable camera setup on an iPhone so far.
Couple these with the largest batteries ever placed in iPhones to maintain the
iPhone 13 Pro
/Max battery life status quo despite the high refresh rate display, and you've got... a record Apple stock price!
We kid, but let's do a proper
Apple

iPhone 13 Pro Max
vs
iPhone 13 Pro
comparison to help you decide between the two.
Main iPhone 13 Pro Max vs iPhone 13 Pro specs differences
6 hours longer

iPhone 13 Pro Max

battery life for video playback
5 hours longer

iPhone 13 Pro Max

battery life for audio playback
5 minutes longer 13 Pro Max charge time to 50%
6.33 inches (160.8 mm) vs 5.78 inches (146.7 mm) height
8.46 ounces (240 grams) vs 7.19 ounces (204 grams) weight
$100

iPhone 13 Pro Max

price difference at each storage option point
iPhone 13 Pro Max

pros and cons

iPhone 13 Pro

pros and cons

Apple iPhone 13 Pro Max vs iPhone 13 Pro display size and refresh rate
At first brush, the choice between the two phones couldn't be more obvious - take the Pro if you want a compact phone, grab the Max if you don't mind a huge flagship with all the bells and whistles. The difference in the sizing, however, is also a difference in pricing and features, so the choice is not as clear-cut.
First off, the 6.7" 2778 x 1284 pixels and 6.1" 2532 x 1170 pixels display sizes and resolution of the
iPhone 13 Pro Max
and 13 Pro haven't changed from their predecessors.
What has changed, however, is the displays' technology. Instead of the oldie LTPS panels of the 12 series (and the
iPhone 13
/mini), the 13 Pro models sport modern frugal LTPO OLED screens that allow for a variable refresh rate depending on the content shown.
iPhone 13 Pro/Max adaptive display refresh rate
In the
iPhone 13 Pro Max
and 13 Pro case, these go up to 120Hz refresh, or 120 times a second when you browse or scroll for smooth, uninterrupted viewing, plus high frame rate games were already announced by Apple to demonstrate the goods.
In an LTPO display, the switching element is replaced with an oxide among several transistors, which reduces the leakage current and lowers the power consumption by 15-20% to compensate for the higher power draw of the 120Hz refresh.
The
iPhone 13 Pro
/Max LTPO panels are made using Samsung Display's adaptive frequency technology, most likely with a twist by Apple itself, as OnePlus managed to do by augmenting the 9 Pro panel to cover the 1Hz-120Hz refresh range.
The 13 Pro/Max, though, can do only 10Hz-120Hz, or just what Samsung offers on its S-series. On the positive side, their new technology is so frugal, that the
iPhone 13 Pro outlasts the iPhone 13 battery life
by a wide margin in video playback, despite having the non-Pro iPhone actually having a larger battery pack.
The great thing about Apple's dynamic refresh rate implementation, however, is that it not only differentiates between static/moving content and adjusts on a per-app basis, but also reacts and adapts on each display touch and swipe.
In a nutshell, the refresh rate on the ProMotion display will drop down to 10Hz if you're reading a tweet on the
iPhone 13
display. If you start to scroll slowly, the refresh rate might rise to 60Hz. Scroll faster and the screen will update 90 to 120 times a second. Again, the refresh rate on the
iPhone 13 Pro
models is dependent on the speed of your finger on the glass.
iPhone 13 Pro vs iPhone 13 Pro Max display quality
The displays also manage to be 25% brighter, at up to 1000 nits typical, and 1200 nits peak brightness for HDR content, says Apple. Here are our display benchmarks that tests its claim.
Display measurements and quality
We indeed found the
iPhone 12 Pro
and 13 Pro Max able to reach and even surpass the 1000 nits brightness threshold. That's much brighter than the 800 nits that the
iPhone 13
is able to muster, and brighter than their predecessors, too, and makes them the
best iPhones
to use outdoors under direct sunlight while lounging on the beach.
The Pro models are equally spectacular when it comes to color presentation. Not only do they cover the standard and wide color gamuts to the tee, as you can see in our color chart above, but their white balance is almost perfectly overlapping with the 6500K reference white point standard.
Add to these the record low color deviation from the standard, especially on the
iPhone 13 Pro
which is one of the top we've ever tested, and Apple has really created the best iPhone displays ever, and one of the best in the industry overall.
Apple

iPhone 13 Pro

/Max vs

iPhone 12 Pro

colors
What about the
iPhone 13 Pro
and
iPhone 13 Pro Max
colors, are there any changes? After all, these are the new iPhone models with the 120Hz LTPO displays, the souped-up cameras with the large sensors and enhanced zooming abilities, as well as the larger batteries.
Last year, the
iPhone 12 Pro
and 12 Pro Max swapped the Midnight Green and Space Grey of the iPhone 11 Pro models for a nice Midnight Blue and an elegant Graphite colors, leaving the Gold and Silver options intact. In 2021, the
iPhone 13 Pro
colors will only do the old switcheroo in China, introducing localized golden versions, while rest of the world gets a new shade of blue.
Apple

iPhone 13 Pro
and 13 Pro Max colors list:
Sierra Blue
Silver
Gold
Graphite
As you can see, this is not a radical departure from the Gold, Pacific Blue, Silver, and Graphite
iPhone 12 Pro
options. Graphite, Gold, and Silver remain, with only the Sierra Blue differing significantly from the Pacific one of yesteryear. Which one would you pick?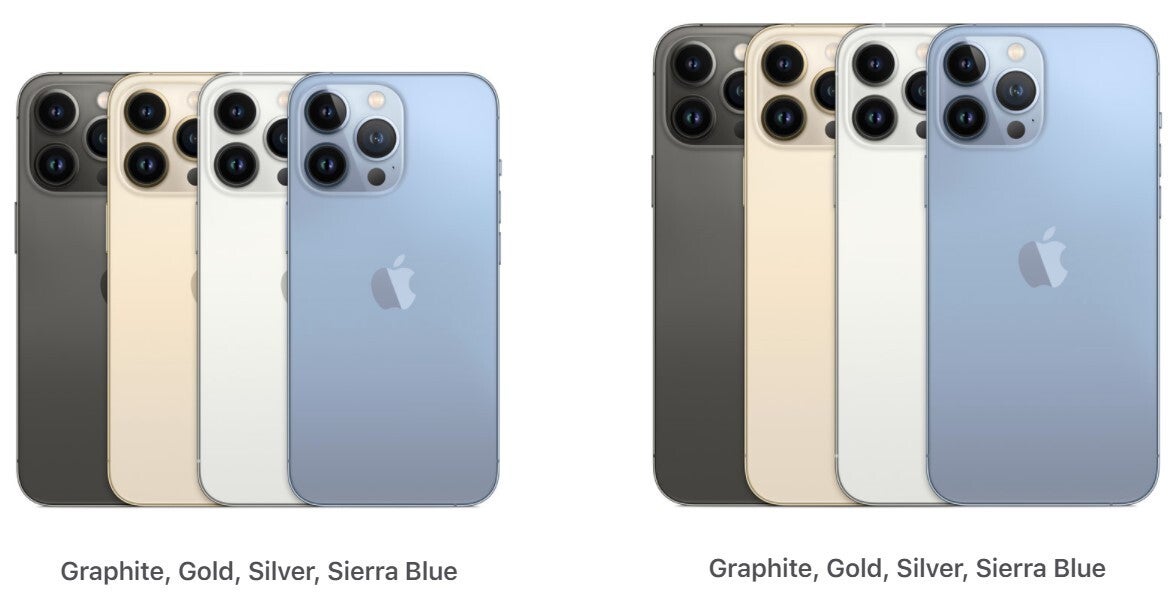 iPhone 13 Pro/Max colors
Is the iPhone 13 Pro/Max waterproof?
Yes, up to 20 feet for up to 30 minutes
Apple may have been late to the iPhone water-resistance game, but it now prides itself in providing one of the toughest waterproofing standards of all phones barring specialized tough and durable models.
The
iPhone 12
series, for instance, have IP68 rating like most of them water-resistant phones, but they can dive up to much deeper, 19.6 feet (six meters) depths of water for 30 minutes compared to virtually all other waterproof handsets.
Not that the others can't withstand such pressure, but anecdotally and not in an official specs list as Apple touts its wares. The
iPhone 13 Pro Max
and 13 Pro don't dive any deeper than the already set record, so they are both able to lounge at the 20 feet bottom of a fresh water lake for at least half an hour still.
Apple iPhone 13 Pro Max vs iPhone 13 Pro cameras
iPhone 13 Pro

/Max camera specs: 12MP main with F1.5 aperture and 1.9 μm pixels, 12MP f/1.8 ultrawide w/ autofocus and 12 MP 3x telephoto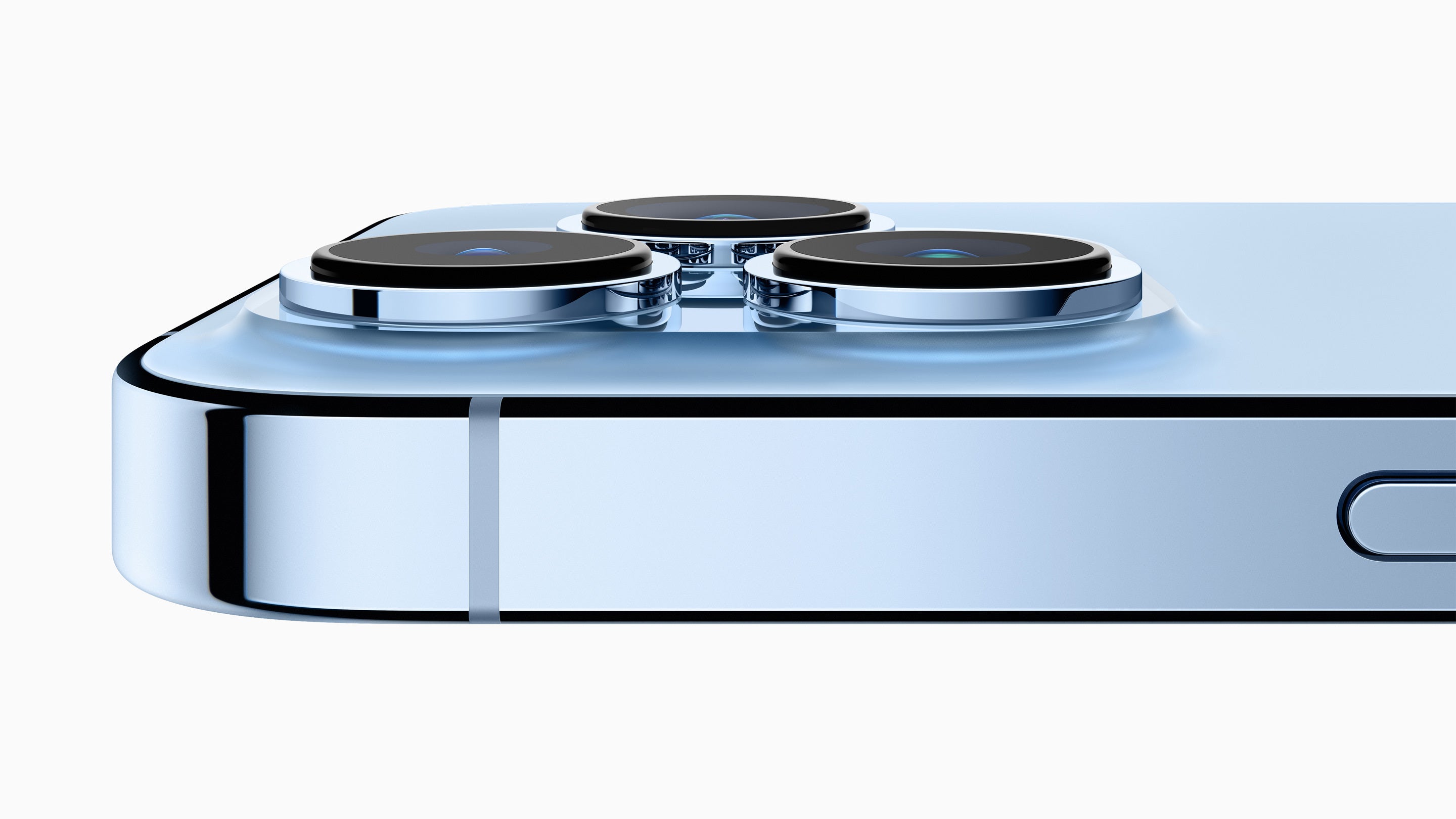 With great Pro camera bump come great Cinematic responsibilities
Perhaps the biggest change apart from the new 120Hz ProMotion displays of the
iPhone 13 Pro
and 13 Pro Max, compared to their lowly
iPhone 13
and
iPhone 13 mini
brethren, is in the camera department.
While all handsets in the
iPhone 13
series will lean hard into new camera features to differentiate them from the
iPhone 12
generation with things like Cinematic portrait shooting mode for video, Apple saved the ProRes Video mode that will churn out in a professional format for richer editing for the Pro models and their extra GPU core.
Both Pro models have Sensor Shift stabilization, something that used to be exclusive to the
iPhone 12 Pro
Max‌. The big news, however, is the new 13 Pro/Max main camera sensor with huge 1.9 micron physical pixels that is a sight to behold and the larger on a phone this side of niche undertakings.
Apple again set the Pro/Max models apart from the rest of the
iPhone 13
crowd by equipping them with a better main camera with larger sensor and wider lens. The lens aperture of the
iPhone 13 Pro
/Max main camera widened to f/1.5 from the f/1.6 on the 12 Pro Max, letting more light in, and potentially improving night and indoor photography with the handset.
Moreover, both have autofocus on the ultra-wide cameras instead of the fixed focus that the respective
iPhone 12
series camera have now. The telephoto camera also gets a new sensor/lens/zoom specs and can now do 3x optical magnification. Overall, the two 13 Pro models have the best camera hardware Apple has ever placed in an iPhone. Check out some samples below.
When you compare pictures between this and the older
iPhone 12 Pro
, you wouldn't notice much of a difference during the day. Apple says it uses a new generation HDR algorithm, Smart HDR 4, on the
iPhone 13
series, and you could notice some slight improvements, but nothing major.
The colors on the 13 Pro in this case were a bit warmer and more flattering to this scene, and it's a trend that Apple has tweaked the white balance better on this newer generation, but the differences are often very subtle.
The new 3X zoom is also used for portrait mode where its 77mm focal distance is better suited for true, close-up portraits compared to the 2X zoom on the
iPhone 12 Pro
. We are on the fence whether that's actually an upgrade or just a change, take a look at a 3X portrait vs a 2X portrait captured from the same distance of about 5-6 feet distance.
While some reviewers have mentioned that the front camera on the iPhone remains disappointingly unchanged at 12MP, we did actually notice quite the change in processing. HDR shots like the one above look so much better on the
iPhone 13 Pro
as the skies retain their blue color, while on previous generation you would get those highlights completely blown out.
Photographic Styles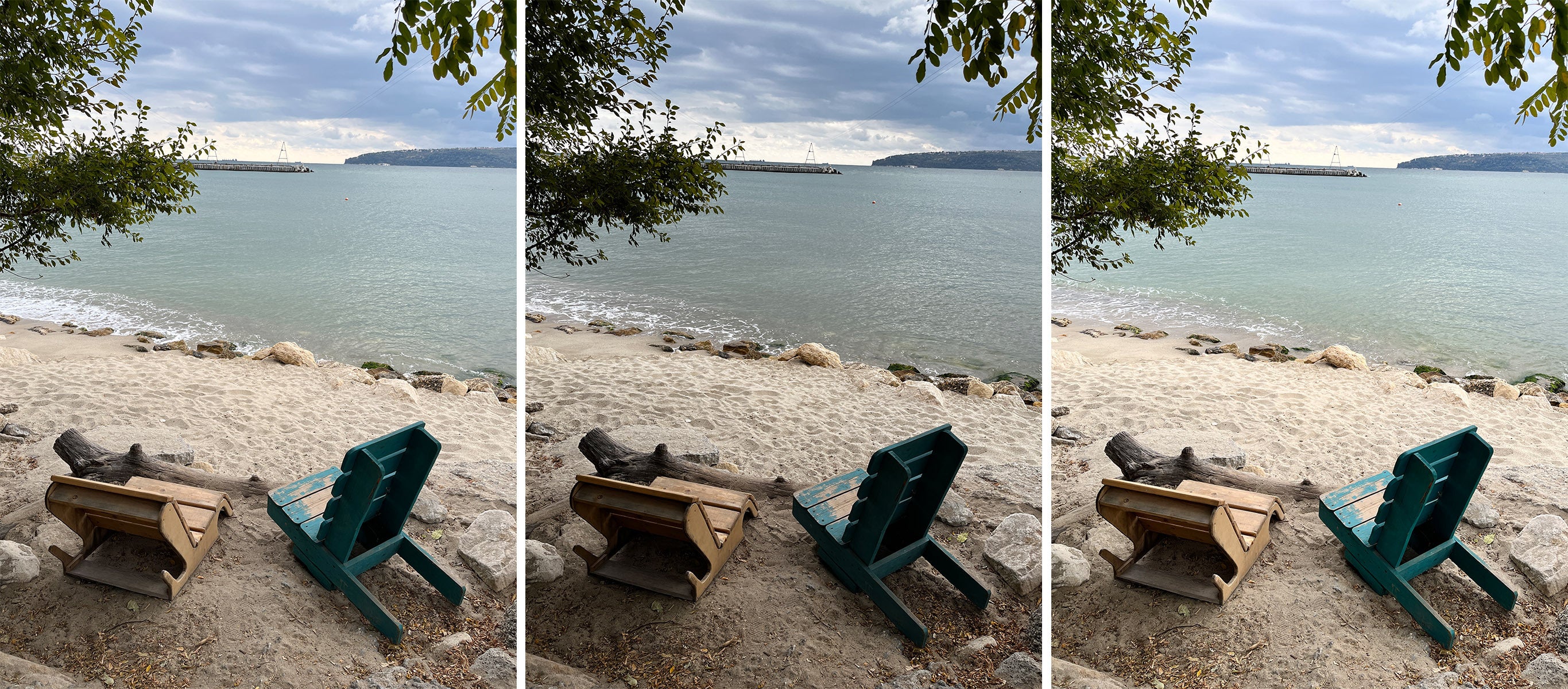 Standard look (left), Rich Contrast (middle), and Vibrant (right)
While the big changes are reserved for low light shooting, the new
Photographic Styles
feature that is exclusive to the
iPhone 13
family is actually quite useful and gives it a lot more flexibility than the
iPhone 12
family ever got for enthusiast photographers. Previous iPhones would capture photos with good-looking colors, but they were what Apple had chosen.
With the
iPhone 13 Pro
(actually all new iPhones), you can tap on the arrow icon in the camera, select the multi-frame Photographic Styles icon and pick a predefined look, or further customize it.
You can pick the Rich Contrast look to get an image that looks a lot like one from a Google Pixel with deeper shadows, or you can select the Vibrant mode for Samsung-like punchy colors, or make it all your own, and every time you capture a photo, that color profile will be applied to your images. That's super powerful!
Notable with Photographic Styles is also that it will preserve the skin tones of people in photos, and not mess them up while it changes the overall colors of a photo. Keep in mind that Photographic Styles are really built in the photo, you cannot revert to a different Style after you've captured a photo. You also cannot use the ProRAW format with Styles.
Night Mode and low light photography
The really big changes, however, are in low light photography which feels quite a bit improved here. Thanks to Apple's new sensor shift stabilization and just the bigger camera sensor and larger individual pixels, snapping photos at night is a lot quicker. While night mode shots on the
iPhone 12
series would often take 2-3 seconds, the
iPhone 13 Pro
captures photos at half that time, almost instantaneously.
Interestingly, the photos are a bit darker for a more genuine "night feel", but you can certainly manually force a longer exposure and get a brighter photo by tapping on the night mode button in the camera.
< iPhone 13 Pro
iPhone 12 Pro >
At night, we did not always see a dramatic difference in low light performance as you would expect. In the photo with the lights above, the
iPhone 13 Pro
image is a bit darker, but that's hardly a major distinction. Also notice the very noticeable flare from those lights that appears as tiny dot reflection, that's become worse last year and the issue still persists in the 13 series.
< iPhone 13 Pro Ultra-wide
iPhone 12 Pro Ultra-wide >
The ultra-wide camera on the newer phone surprisingly captures a darker image by default, but you do get slightly cleaner detail in the grass. It's still far from the quality you can get with the main camera but it's a step up.
The LiDAR sensor for augmented reality is also present, but unless you are really interested in AR, you'll probably benefit very little from it. One useful thing it does, though, is help get focus faster for night time portraits.
One feature only the Pro models have this year is macro photography for photos and videos. That is possible because of the new ultra-wide camera on the Pros that now features auto focusing, and this makes it possible to focus on objects that are up to an inch close, while previously you could only focus at up to four inches distance.
iPhone 13 Pro/Max video quality
On the video side, before addressing the
cinematic
elephant in the room, let's quickly mention sensor shift stabilization that is now on all
iPhone 13
models, including the Pro. The gist of it is that while previously the lens would be stabilized with traditional OIS, here, the whole sensor is stabilized.
This should result in smoother video, but quite honestly, we couldn't spot any difference. Most of the time, videos feel just as stable as before. Which again is definitely not a bad thing, iPhones already had one of the best stabilization for video.
Cinematic Mode Video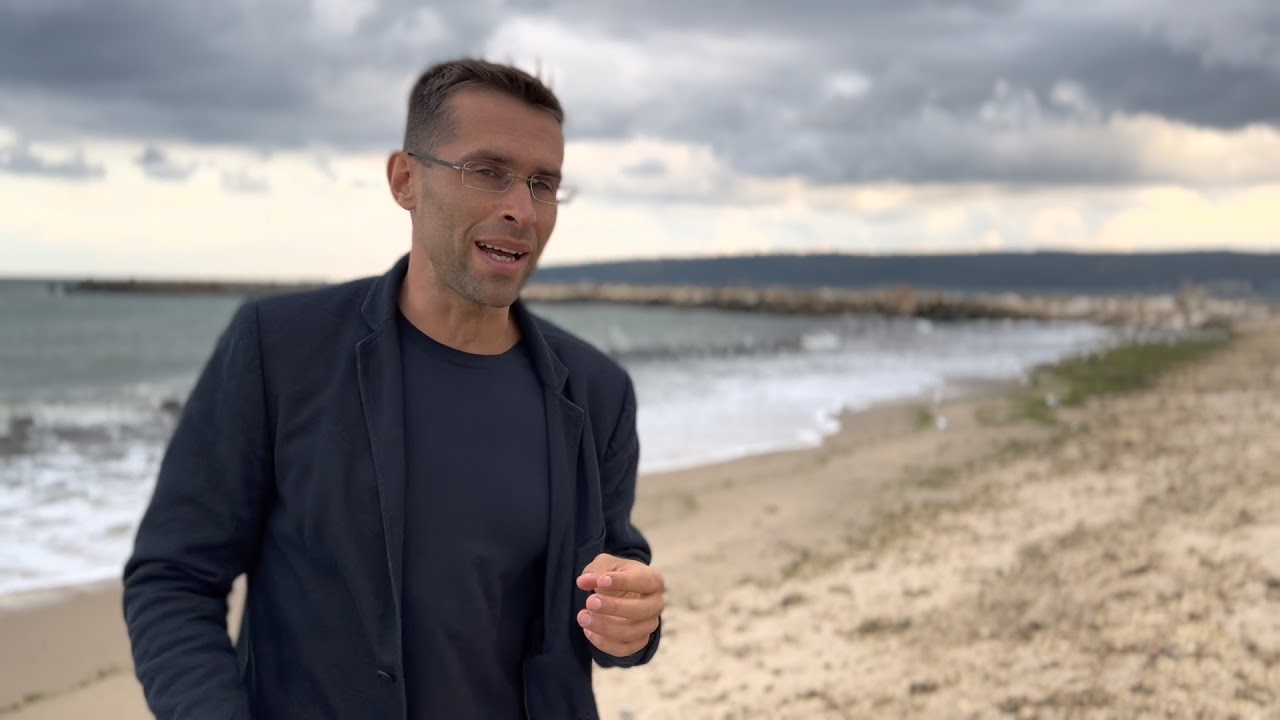 The new
Cinematic Mode
is just like Portrait mode for video as it blurs the background, and in that regard, it's not perfect, but it does a better job than the competition; you can also switch focus on a video after you've recorded it.
While Cinematic Mode is fun to play with, it didn't always work quite as expected, as it blurred some sticking-out parts like years or limbs together with the background. That's a common complaint on other phones with the portrait video feature, though, but still, will love our curls, ears, and fingers, and would like them in focus while moving.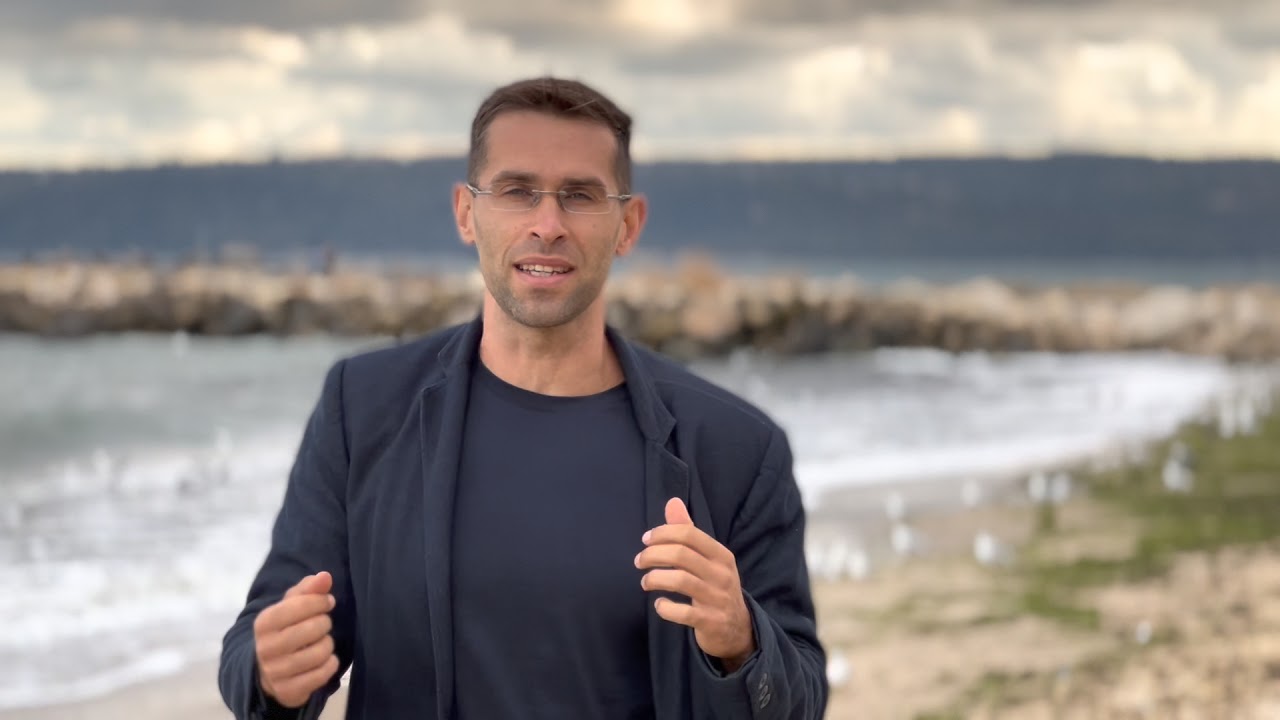 Right now, you should also know that Cinematic Mode only records in 1080p and... 30fps. As it is right now, this is more of a Portrait mode for video capture, and that would have been a more proper and accurate description of this new mode.
There is one other big new video feature for the pros that record video on their iPhones: Apple ProRes. This RAW camera format is not available on the
iPhone 13
, while on the Pro it allows you the freedom to color correct in Final Cut Pro without losing in quality, but we couldn't test it just yet — the feature will arrive via a software update later this year.
Apple iPhone 13 Pro Max vs iPhone 13 Pro performance
Second generation 5nm Apple A15 processor
TSMC N5P production method
5-core GPU (vs 4-core on the

iPhone 13

/mini)
Up to 7% performance gains compared to A14
Or, up to 15% power draw reduction
The
iPhone 13 Pro Max
and
iPhone 13 Pro
are powered by Apple's best mobile chipset so far, the A15, but don't expect any significant gains over its predecessor the A14 which is powerful enough to run anything iOS throws at it with aplomb.
That's because the Apple A15 is still a 5nm affair, just an enhanced one with the second generation of the TSMC foundry's 5nm node. In comparison with the process that the chips in the
iPhone 12
series are made with, N5P bring power consumption, transistor density, and performance improvements.
As a rule of thumb, those second-gen tapeouts further refine the gains achieved with the first generation, as happened with the 7nm process, rather than introduce some breathtaking technology jumps which are getting harder and harder with each production node shrink.
During the N5P introduction to investors, TSMC stated that the second generation process node will let manufacturers pick either a a 15% better power efficiency, or 7% performance boost.
Apple has tied to balance both, but it did add an extra, fifth GPU to the A15 that's in the
iPhone 13 Pro
/Max compared to the
iPhone 13
chipset. As usual, the goal is to focus more on the AR/VR, AI, imaging, video, and other buzzword coprocessing, rather than pure power gain, as the A14 is already strong enough like Cher.
Nevertheless, Apple does boast that the 13 Pro/Max A15 is the "
the fastest chip in a smartphone
," 50% faster than the competition in both the processor and graphics departments.
Apple iPhone 13 Pro Max vs iPhone 13 Pro battery life and charging
Last but not least among the main
iPhone 13 Pro Max
vs
iPhone 13 Pro
differences is the battery size and charging speeds. This year, Apple placed the largest iPhone batteries ever in those two.
Thus, if iPhone battery life is a pet peeve for you, and you are worried about the new power-hungry displays, the
iPhone 13
series features a huge jump in battery size making you very happy. The 13 Pro Max model sports a 4352mAh battery that is an 18% hike from last year's
iPhone 12 Pro Max
.
The
iPhone 13 Pro
sees its battery capacity jump more modestly - from 2815mAh to 3095mAh - explaining the 6 hours shorter video and 5 hours shorter audio playback compared to the 13 Pro Max.
Besides the larger batteries, this year's Pro models sport the more frugal A15 Bionic and LTPO displays, returning the best battery life from an iPhone ever, with a significant advantage of the 13 Pro Max in that regard.
PhoneArena Battery Test Results
Unfortunately, there are no Android-style fast charging upgrades and both phones still top up with a 20W brick that's not in the box. Here's the turn of the 13 Pro to shine against the 13 Pro Max, though, as it charges 5 minutes faster to 50%, and that's the last
iPhone 13 Pro Max
vs 13 Pro difference worth noting.
Recommended Stories