iPhone 13 Pro Max vs iPhone 12 Pro Max: what we know so far
1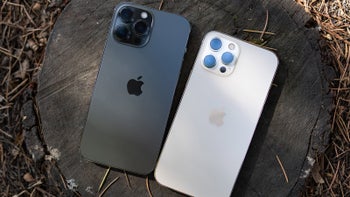 The
iPhone 12 Pro Max
was one of the most popular Apple devices, and no wonder as it was a big upgrade with a new design, 5G connectivity, and an improved camera, so where does Apple go from here? Well, while the iPhone 13 Pro Max will mostly look the same as its predecessor, it will receive some big changes under the hood that might just make it the most exciting upgrade of the series.
While all
four new iPhone 13
models are said to get a slightly bigger battery, the Pro Max might get the biggest battery upgrade and combined with a rumored 120Hz ProMotion feature, this alone might be enough to convince even iPhone 12 buyers to upgrade.
Here are the key new features rumored for the iPhone 13 Pro Max and how they compare against the previous model.
Nearly identical design and styling, newer phone a bit thicker and heavier
Same 6.7" screen size,

120Hz

on 13 Pro Max vs 60Hz on 12 Pro Max
Faster Apple A15 vs Apple A14 on older model, but same 6GB RAM
Nearly identical cameras (wide, ultrawide and 2.5X zoom)
Big improvement in battery size: 4,352mAh on iPhone 13 Pro Max vs 3,687mAh on iPhone 12 Pro Max
TouchID fingerprint scanner on iPhone 13 Pro Max (not certain)
New Matte Black and Bronze color options (not certain)
Price and release date
Mid-September announcement and late September in-store launch
After the coronavirus messed up even Apple's usually impeccable timing, the company is expected to return to its routine time frame for new iPhone launches in 2021. That means that you should expect the big announcement event in the middle of September, followed by a big launch and in-store availability of the new iPhones in late September.
If we were to pin-point a date, we would bet on the iPhone 13 event happening on Tuesday, September 14th, as Apple has a tradition of holding its events on Tuesdays, and again following its tradition, you can expect an in-store iPhone release on Friday, September 24th.
So far, there are no rumors suggesting Apple will change the pricing, so here is what this means: once the new iPhones launch, the previous generation will see its price slashed by $100, so the new iPhone 13 Pro Max base model will launch at a base price of $1,100, while the iPhone 12 Pro Max will remain on sale for a lower price of $1,000.
Display and Design
Finally with 120Hz ProMotion!
One of the most exciting new features on the iPhone 13 Pro Max is a display upgrade. The screen size and resolution are expected to remain exactly the same as last year: a 6.7-inch OLED panel with a resolution of 1284 x 2778 pixels, but what's new is that Apple is finally introducing 120Hz ProMotion for super smooth scrolling on the 13 Pro Max.
Previous iPhones run at 60Hz, which simply means that the screen refreshes 60 times each second compared to 120 times on the new model, and this faster refresh rate makes everything appear smoother when you interact with the screen. This is a big deal and definitely makes a big case for buying a Pro iPhone versus the non-Pro models which will still run at 60Hz.
On the design side, don't expect any major changes: same flat sides, same overall look, but internal changes might force Apple to make the 13 Pro Max a bit thicker and a bit heavier. Also, new colors! Pro models never quite got the fun colors of the regular iPhone models, and the 13 Pro Max will not differ, but it is expected to get two new colors: Matte Black, which unlike the current Graphite model should be real black rather than dark gray, and then a Bronze color, which is a darker shade of gold.
Touch ID makes a return?
We're not sure about that one just yet
Bloomberg is one of the publications that has a nearly impeccable track record with Apple rumors, and back in January it predicted the return of the Touch ID fingerprint scanner to all four new iPhone 13 models.
There have been no other sources confirming this, so it's definitely not a certainty yet, but this is one feature that makes a lot of sense. If implemented, it is said to be an alternative to Face ID, meaning that the notch and face scanning won't just disappear overnight. Expectations are that this would be an in-display fingerprint scanner much like on Android phones such as the
Galaxy S21 Ultra
, and it will be a useful addition for those times when you are wearing a mask and a face scan is simply not possible.
Battery and Charging
The biggest upgrade to iPhone battery life
While all iPhone 13 models are expected to receive some form of a battery boost, the iPhone 13 Pro Max is said to get not only a small improvement, it's expected to get a much, much bigger battery.
Of course, this will result in a phone that is even thicker and even heavier than the already thick and heavy iPhone 12 Pro Max, but we'd bet that most users won't mind.
The exact battery capacity for the iPhone 13 Pro Max was revealed on June 1st by the usually very reliable leaker L0vetodream on Chinese forums, and here are the numbers:
4,352mAh battery on iPhone 13 Pro Max vs 3,687mAh in iPhone 12 Pro Max
Wow! That's a difference of 665mAh, or a nearly 20% larger battery on the iPhone 13 Pro Max.
Even with the slightly increased power consumption of a 120Hz display, this should make for a handsome battery life improvement and this might finally be the iPhone that lasts you two days between charges.
On the charger front... well, don't expect a charger in the box. Plan on spending an additional $20-$30 bucks for a fast charger for the iPhone 13. Unfortunately, even this "fast charger" is not quite as fast as you get with other phones, only maxing out at 20W. And we don't expect this to change unfortunately.
Cameras
No big changes
2021 is expected to be a quiet year when it comes to camera upgrades. The iPhone 13 Pro Max is currently expected to feature the exact same triple camera as the previous model, with a main, a 0.5X ultra-wide and a 2.5X zoom camera.
Of course, don't expect quite the same image quality. Apple is planning slight improvements in 3 key areas:
more advanced, 6-element construction for the ultra-wide camera lens
faster, f/1.8 aperture for the ultra-wide camera, so it takes better shots in low light
overall software improvements to image quality
So yes, the iPhone 13 Pro Max even with the same camera hardware should deliver slightly better image quality.
What will not happen in 2021 is a zoom camera like you get on rival Android phones. The
Galaxy S21
Ultra, for example, has two zoom cameras, a 3X and 10X one, which allows it to zoom far with incredible quality, and Apple still has no answer to that. Current rumors suggest that such a long-range zoom camera may come to the iPhone 14 Pro Max.
As for other new features on the iPhone 13 Pro Max, there are sketchy rumors about Apple introducing astrophotography modes in the camera. What's more likely is a portrait video mode, much like portrait mode for photos where your background is blurred.
Just like the iPhone 12 Pro Max, the iPhone 13 Pro Max will also come with a LiDAR scanner. The main use of that scanner is for augmented reality, and we are yet to see Apple realize its full potential.
New Apple A15 chip
Apple has the lead in performance in the smartphone space, and the new Apple A15 Bionic chip in the iPhone 13 Pro Max is expected to once again be the fastest in the industry. Expect improvements in CPU, GPU and AI performance, as well as camera ISP improvements.
The iPhone 13 Pro Max is also expected to have the same 6GB of RAM as the previous model.
One area where the iPhone 13 series in general will step things up a notch is connectivity with expanded support of mobile bands, but also Wi-Fi 6E support. This newer Wi-Fi standard delivers higher performance, lower latency, and faster data rates, and it adds support for the 6GHz Wi-Fi band on top of the existing 2.4 and 5GHz Wi-Fi bands that may be congested in dense urban areas.
Currently, we don't have any benchmarks about the Apple A15, but we leave you with the below comparison of the 2020 A14 and how far ahead it is of the fastest Android chip in 2021, the Snapdragon 888.
| | GeekBench 5 Single-core | GeekBench 5 Multi-core |
| --- | --- | --- |
| Apple A14 | 1593 | 4158 |
| Snapdragon 888 | 1113 | 3436 |
This article will be updated whenever new information about the A15 surfaces.
iPhone 13 Pro Max vs iPhone 12 Pro Max: Specs Comparison
And here is a detailed specs comparison between the iPhone 13 Pro Max and iPhone 12 Pro Max.
Keep in mind that the specs below are based on rumors, leaks and expectations, so they may change in the final device.
iPhone 13 Pro Max
iPhone 12 Pro Max
Size and Weight
a bit thicker and heavier
160.84 x 78.09 x 7.39 mm, 228g (8oz)
Display
6.7" OLED,

120Hz Pro Motion

6.7" OLED @60Hz
Processor
Apple A15 Bionic
Apple A14 Bionic
RAM
6GB
6GB
Storage
128G / 256G / 512GB, non expandable
128G / 256G / 512GB, non expandable
Cameras
12MP wide camera
12MP ultra-wide camera with faster, f/1.8 aperture
12MP 2.5X zoom camera
12MP wide camera
12MP ultra-wide camera, f/2.4
12MP 2.5X zoom camera
Battery size
4,352mAh
3,687mAh
Charging speeds
20W wired, 15W MagSafe wireless
20W wired, 15W MagSafe wireless
Prices
starting from $1,100
after iPhone 13 launch, iPhone 12 Pro Max prices expected to drop by $100 to a base of $1,000