iPhone 13 Pro Max vs iPhone 12 Pro Max
27
We may earn a commission if you make a purchase from the links on this page.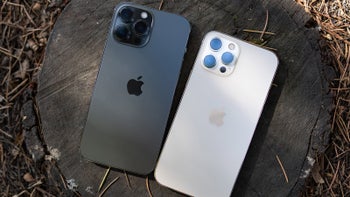 Can you tell the difference between the iPhone 13 Pro Max and its predecessor, the
iPhone 13 Pro Max
?
While these two look almost the same, the newer 13 Pro Max brings some big changes under the hood that might just make it the most exciting iPhone upgrade of all time!
And there are two main reasons for that: first one is without a doubt the big increase in battery size, so that the 13 Pro Max can comfortably last two days between charges, and secondly, you get a 120Hz ProMotion display for buttery smooth scrolling that makes the experience so much better.
iPhone 13 Pro Max pros and cons
iPhone 12 Pro Max pros and cons
Add to that a host of other enhancements, such as higher brightness, larger sensor size for the triple camera system, and pro features like ProRes video recording, and it all comes together for something indeed quite impressive.
So should you buy the newer iPhone 13 Pro Max, or instead get the 12 Pro Max and save some money instead?
iPhone 13 Pro Max vs iPhone 12 Pro Max in a nutshell:
Nearly identical design and styling, newer phone a bit thicker and heavier
Notch is 20% smaller
Same 6.7" screen size, 120Hz ProMotion vs 60Hz
Brighter screen on the newer model
Faster Apple A15 vs Apple A14 on older model
Big improvement in battery life: 2.5 hours longer on average
New cameras, bigger sensor and faster aperture
3X zoom camera (vs 2.5X on 12 Pro Max)
ProRes video recording on the newer model
New Sierra Blue color
Display and Design
Finally with 120Hz ProMotion! Also, 20% smaller notch.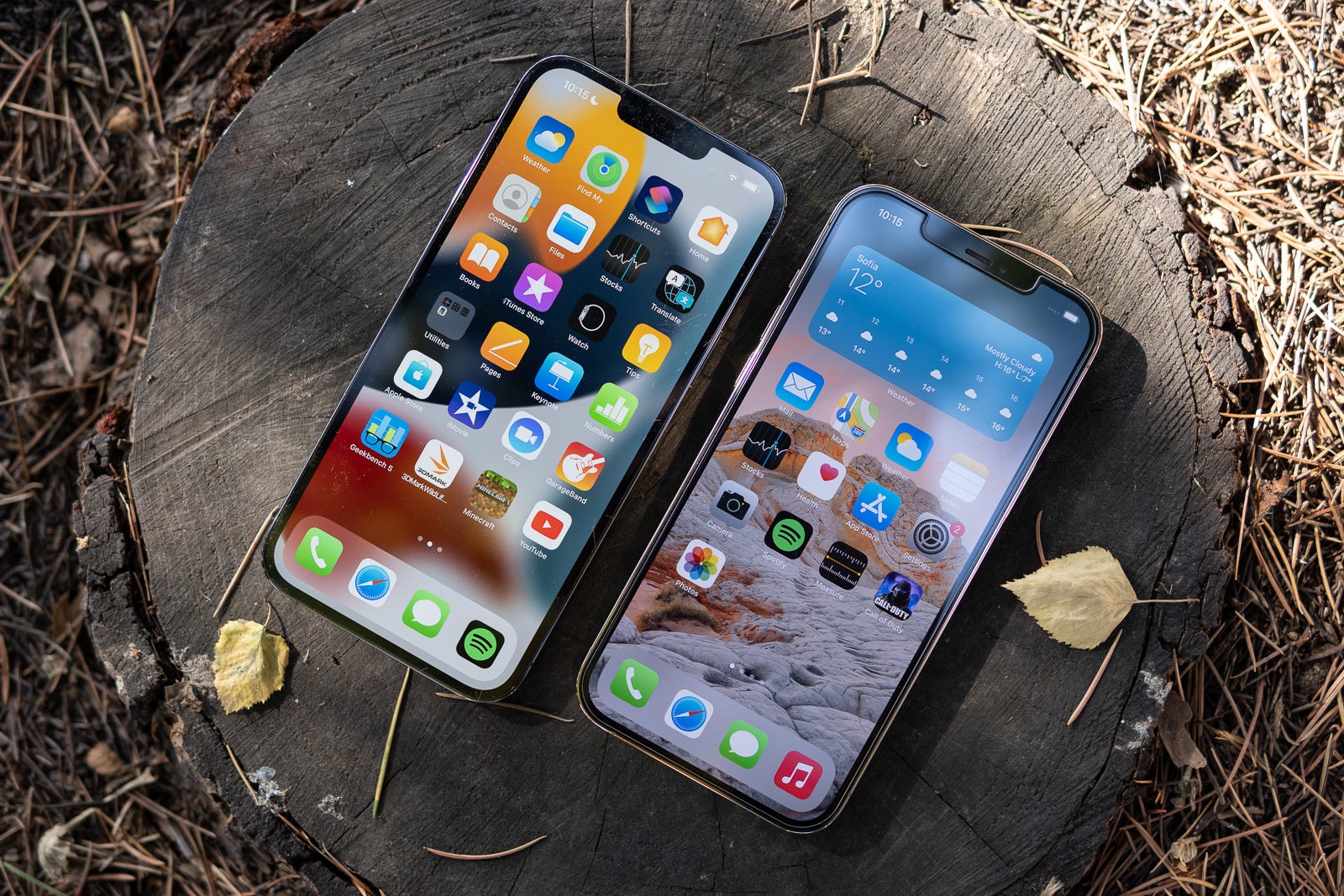 iPhone 13 Pro Max on the left, 12 Pro Max — on the right
One of the most exciting new features on the iPhone 13 Pro Max is a display upgrade. The screen size and resolution are the same on both, you get a 6.7-inch OLED panel with a resolution of 1284 x 2778 pixels, but what's new is that Apple is finally introducing 120Hz ProMotion for smoother scrolling on the 13 Pro Max.
The 12 Pro Max and previous iPhones run at 60Hz, which simply means that the screen refreshes 60 times per second, which appears choppy in comparison to the 120Hz ones.
The 13 Pro Max also has the advantage of a brighter display that can go up to 1,000 nits max brightness, while the older model could only go up to 800 nits, which makes a difference when you use the phone outdoors.
Display measurements and quality
Both phones use Face ID, but on the 13 Pro Max the notch is 20% smaller in size.
On the design side, no major changes: same flat sides, same overall look, however the 13 Pro Max is a bit thicker and a bit heavier. That actually might be a bigger deal than it sounds: the 12 Pro Max was quite heavy at 228g, and the 13 Pro Max now weighs 240g. Are we reaching some sort of a limit here? It's definitely not the most comfortable feeling carrying this phone in your pocket.
Both phones feature a stainless steel construction instead of the cheaper aluminum used on most other phones. You can tell the steel by the shiny, glossy sides, and that also happens to be one of the reasons for the added heft here. On the front, both phones use Apple's Ceramic Shield toughened glass, no difference in that regard, and both have sapphire cover glass for the camera lenses for increased scratch protection. There is also absolutely no difference in their practicality with the same IP68 dust and water protection rating on the two.
But then we have the
new iPhone 13 Pro Max colors
! Pro models never quite get the fun color options of the regular iPhone models, and the 13 Pro Max remains quite conservative for the most part, but it does have that new Sierra Blue version that actually looks really appealing! We have the Graphite version up for review, and then you also have the bright Silver model and finally the Gold one, which is more like pale champagne and also looks quite stylish.
The biggest upgrade to iPhone battery life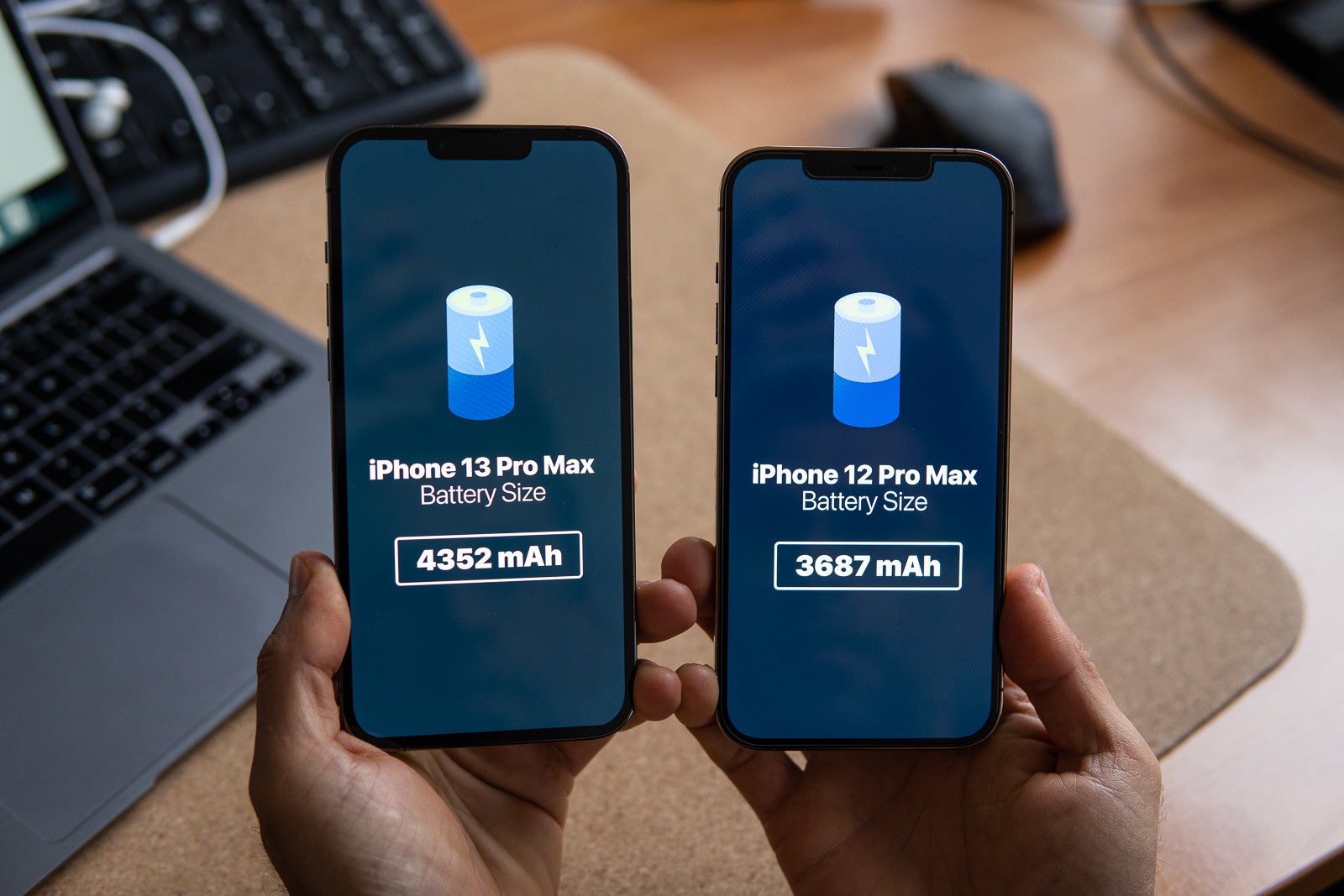 While all iPhone 13 models get some form of a battery boost compared to the previous generation, the iPhone 13 Pro Max gets the biggest one.
The 13 Pro Max features a 4,352mAh battery vs a 3,687mAh cell on the 12 Pro Max. That's an increase of nearly 20%, which just so happens to provide the biggest leap in battery life on an iPhone since the iPhone 11 Pro Max!
So what about battery life? Official numbers from the company say that on average, the iPhone 13 Pro delivers 2.5 hours battery life increase over iPhone 13 Pro Max. And just look at the official estimates for battery life while streaming video:
iPhone 13 Pro Max — 25 hours
iPhone 12 Pro Max — 12 hours
Yes, that's double the battery life while streaming video, which sounds insane, but let's take the two for a spin on our own
PhoneArena battery test
table and see how they do!
The iPhone 13 Pro Max is crushing it on the web browsing test and that is one of the highest scores among all devices that we have tested so far. You might have expected a drop in battery life with 120Hz, but it's quite the opposite as Apple has implemented the feature brilliantly. We are getting between 20% and 30% longer battery life in our tests, a really impressive showing!
The new 13 Pro Max is also great at our YouTube video streaming test where it managed to play back video non-stop for more than 10 hours, a first for an iPhone, and it beat the 8 hour 37 minute score on the 12 Pro Max.
And last but not least, gamers will be happy to know that you get excellent battery life there too as the score there also breaks the 10-hour mark. This compares to just 8 hours on the 12 Pro Max.
On the charger front... well, you don't get a charger in the box on either one! Plan on spending an additional $20-$30 bucks for a fast charger here. Unfortunately, even these so called "fast chargers" that Apple supports are not quite as fast by modern standards, only maxing out at 20W, at least theoretically. We actually tried charging the 13 Pro Max with a 45W Samsung fast charger we had lying around, and it delivered higher speeds and fully charged the phone for just 1 hour and 40 minutes. Take a look at our charging speed test below:
iPhone 13 Pro Max charging speeds
Apple 20W charger
Samsung 45W charger
*max charging speed is 27W
5 mins
9
8
10 mins
16
18
15 mins
22
27
30 mins
41
53
45 mins
61
74
1 hour
77
85
1 hour 15 mins
87
93
Full charge takes
2 hours 5 minutes
1 hour 40 minutes
On the wireless front, MagSafe is also still around with up to 15W charging speeds, that's unchanged. In our testing, using the Apple MagSafe charger, it took about 2 hours and 45 minutes to fully charge up an iPhone. And the magnets and their strength also hasn't changed on the 13 Pro Max. Take a look here for the best
MagSafe compatible wireless chargers
.
Cameras
All new cameras, a couple big new features too
While they look quite familiar, the three cameras on the iPhone 13 Pro Max are visibly bigger and the reason for that lies in the all new and bigger sensors that they use. First, though, here is a quick camera comparison with the iPhone 12 Pro Max:
Wide (main) camera: 26mm on both, f/1.5 aperture on 13 Pro Max vs f/1.8 aperture on 12 Pro Max
Ultra-wide camera: 13mm on both, f/1.8 aperture on 13 Pro Max vs f/2.4 aperture on 12 Pro Max
Telephoto camera: 3X zoom, or 77mm on 13 Pro Max vs 2.5X zoom on 12 Pro Max
Apple advertizes that the iPhone 13 Pro Max wide camera now captures up to 2.2X more light at night for both photos and videos, and the ultra-wide camera gets up to 92% more light, which sounds massive. That advantage comes from the larger sensors used. The main camera on the 13 Pro Max features a 1/1.65" sensor vs a 1/1.9" sensor on the 12 Pro Max.
But let's take a look at the actual photographs:
During the day there is hardly any difference at all and photos look pretty much identical. But what about the low light performance?
< iPhone 13 Pro / Max
iPhone 12 Pro / Max >
Interestingly, the newer phone captures slightly darker photos for a moodier, more genuine
"night time feel"
. Notice the flaring from the lights that is quite annoying, it's still present in both photos and videos.
< iPhone 13 Pro / Max ultrawide
iPhone 12 Pro / Max ultrawide >
The trend with darker photos is particularly noticeable when using the ultrawide camera. Some people will still prefer that brighter look, but you may argue in favor of the more realistic tonality with a darker shot. And yes, detail is cleaner with less noise with the ultrawide, there is a more pronounced difference with this camera.
< iPhone 13 Pro / Max
iPhone 12 Pro / Max >
The larger sensor and wider aperture allowed the iPhone 13 Pro Max to use night mode with merely a 1-second exposure compared to a 3-second exposure on the iPhone 12 Pro Max.
< iPhone 13 Pro / Max
iPhone 12 Pro / Max >
There is quite a bit of difference when using the ultra-wide camera as well.
In such low light, even though we tapped on the native 3X zoom on the 13 Pro Max and 2.5X zoom on the 12 Pro Max, both phones actually used the main camera with digital zoom and night mode in the photo above.
A new feature on the 13 series is called
Photographic Styles
. This is basically photo filers on steroids: you can do local edits in real time and you can see the results right in the view finder. You can pick a more vibrant look, or a different style, and you can have the iPhone remember that personal preference you have and use it across all your photos.
You can now also capture
macro photos on the iPhone 13 Pro / Max
thanks to the new ultra-wide camera that has a new auto-focus system that allows to focus at a distance as close as just 2cm for incredible close-ups. This same feature applies for video too, where you can record macro video.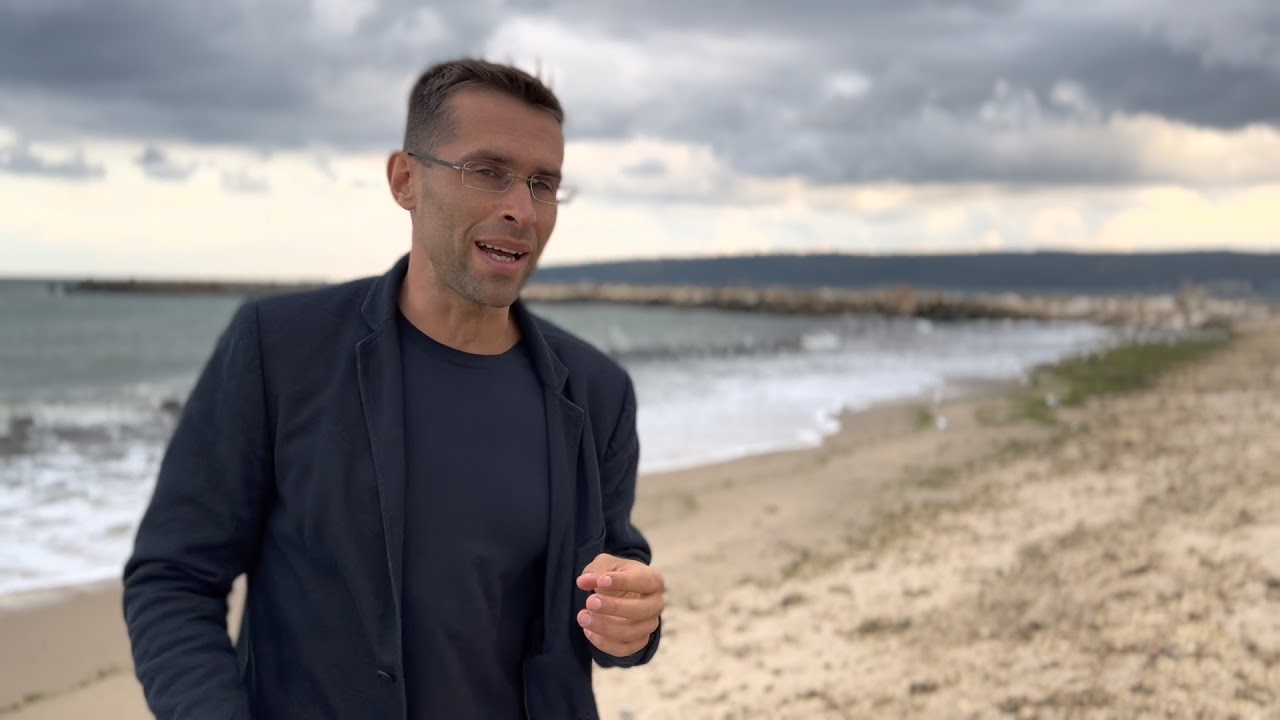 On the video side, the major new feature is called
Cinematic Mode
and allows you to rack focus while you are recording, and even change the focus of a previous recording captured on an iPhone 13 device.
Just like the iPhone 12 Pro Max, the iPhone 13 Pro Max also comes with a LiDAR scanner. The main use of that scanner is for augmented reality, but we are yet to see Apple realize its full potential, and for the most part you can probably just ignore its existence here.
New Apple A15 chip
Gains!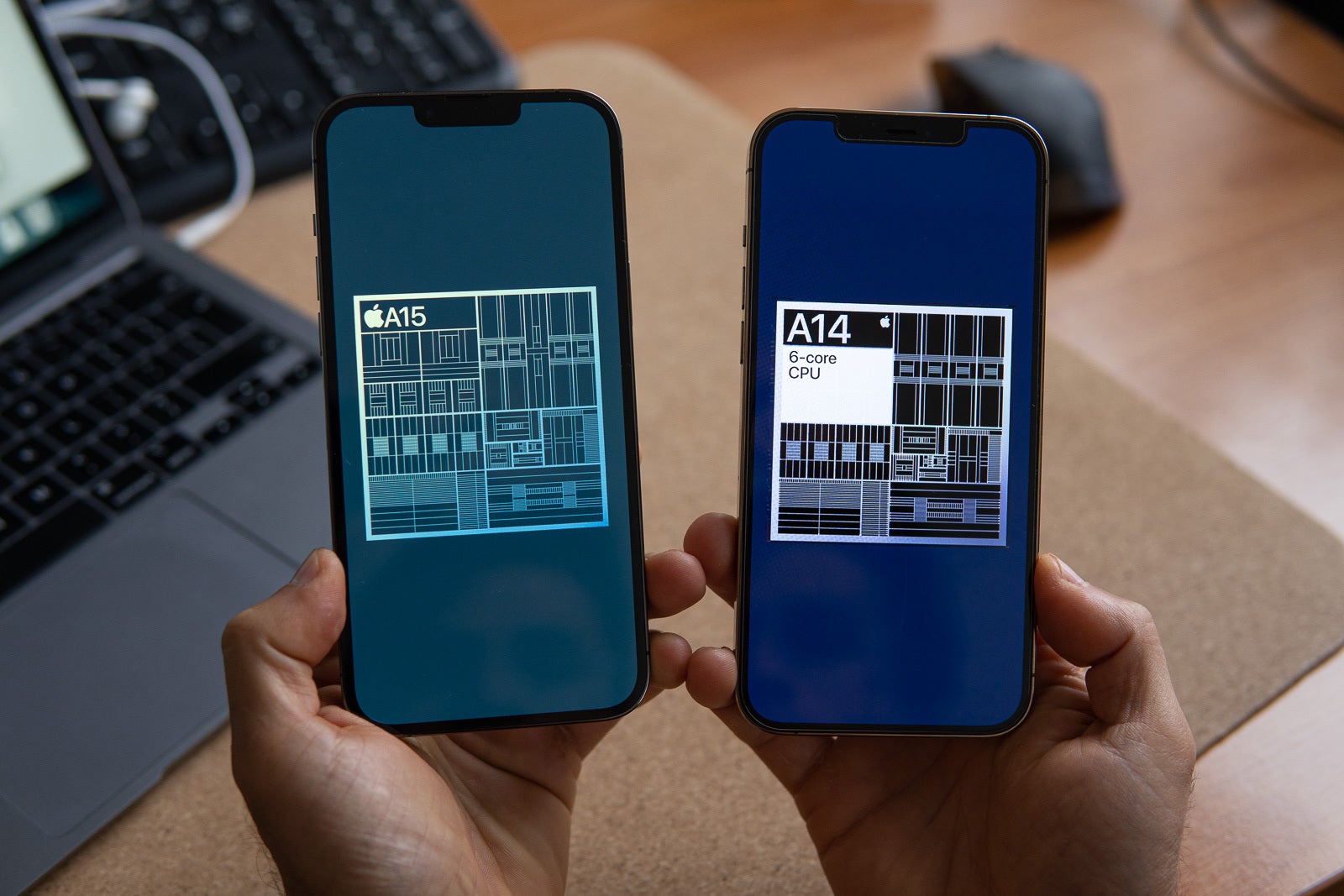 Apple has the lead in performance in the smartphone space, and the new Apple A15 Bionic chip in the iPhone 13 Pro Max raises the bar from the previous leader, which just so happens to be the Apple A14 in the iPhone 12 Pro Max. Both chips are build on 5nm technology, but the newer one features more transistors and a wider cache, and it gets improvements in CPU, GPU and AI performance, plus it brings very crucial camera ISP enhancements.
Below, you will find benchmark results from the iPhone 13 Pro Max vs 12 Pro Max to understand the real difference in speed:
So far, it is said that Apple has bumped the CPU frequency up from 2.99GHz on the A14 to 3.22GHz on the A15, which gives an under 10% increase in CPU performance, and the company has also boosted the cache which helps get better multi-core performance. Our take on these numbers is that the A15 is faster, but the A14 was already fast enough, so don't expect some huge difference in the way these phones run in real life. This is more of a future-proofing move rather than addressing any particular problem. Unless you edit a lot of video on your phone that is, that definitely feels much quicker now.
On the GPU side, we are seeing slightly bigger gains. The new iPhone Pros with the Apple A15 Bionic scored 14,216 points on the Geekbench Metal graphics test, compared to 9,123 for the iPhone 12 family, and 7,338 points for the iPhone 11 series. That's nearly 55% improvement, a bigger leap than you might have expected.
But in more realistic testing cases such as the 3D Mark Wildlife Extreme test that simulates 3D gaming, we see more modest gains in actual GPU speeds.
The iPhone 13 Pro Max also has the same 6GB of RAM as the previous model. That falls short of Android flagships but seems sufficient for the way iOS runs.
On the network side, you have 5G connectivity with support for mmWave in the US, as well as mid-band and low-band 5G, so you can get the full benefits of 5G. The iPhone 13 series also use the new Qualcomm's X60 modem, a welcome upgrade over the X55 modem used in the iPhone 12 series. The main advantage of the newer X60 modem is that it gets rid of one limitation of the previous modem: while the X55 bundled 5G downlink with 4G uplink, which was problematic, the newer X60 combines 5G downlink and 5G uplink for lower latency. One thing we had heard earlier in rumors and that did not happen on the 13 Pro Max is Wi-Fi 6e support. Wi-Fi 6e is the new standard that can theoretically more than double bandwidth by opening the 6GHz channel for customers for the first time, but we guess that might come to the 2022 iPhones.
iPhone 13 Pro Max vs iPhone 12 Pro Max: Specs Comparison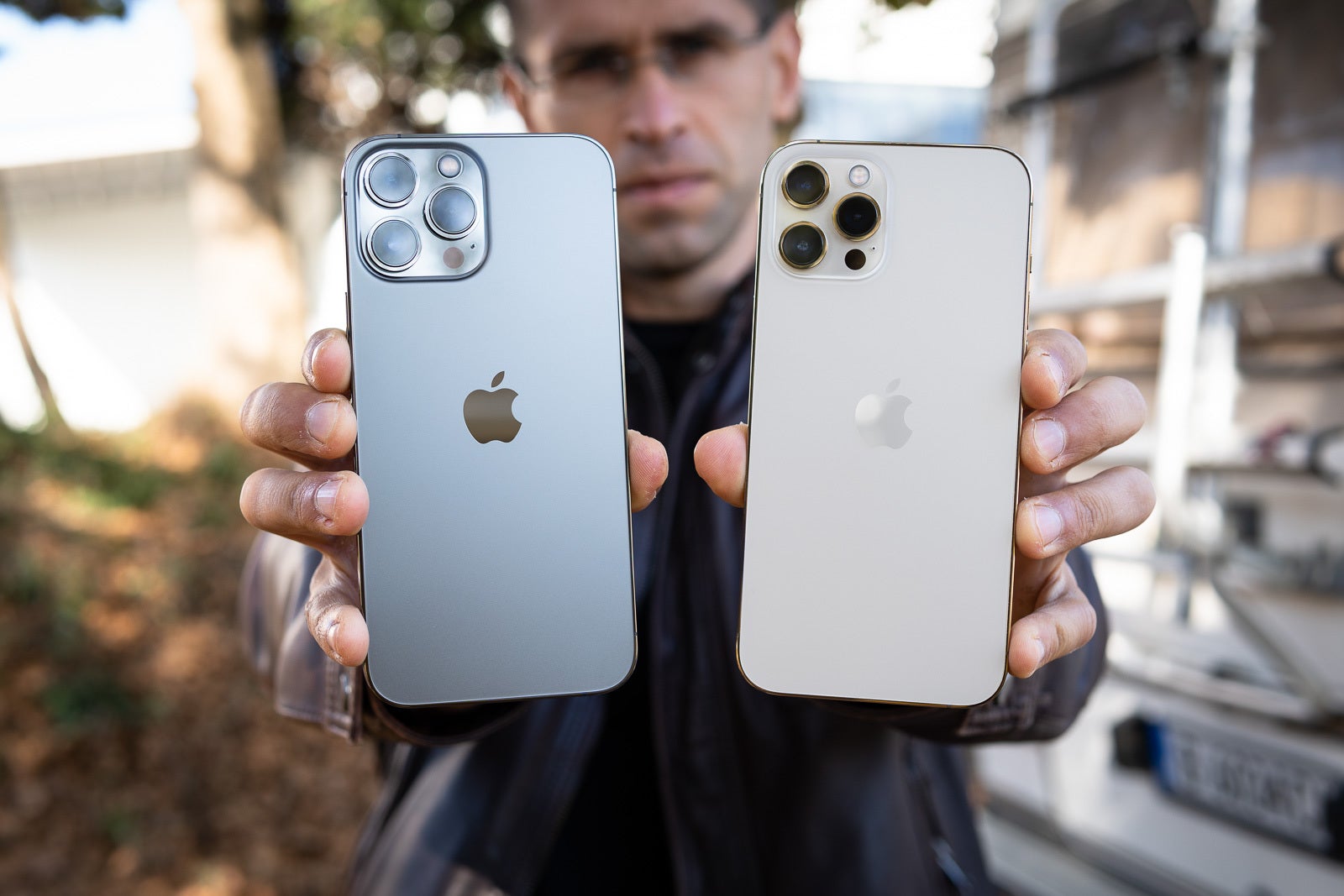 And here is a detailed specs comparison between the iPhone 13 Pro Max and iPhone 12 Pro Max.


iPhone 13 Pro Max
iPhone 12 Pro Max
Size and Weight
160.84 x 78.09 x 7.65 mm, 240g
160.84 x 78.09 x 7.39 mm, 228g (8oz)
Display
6.7" OLED,

120Hz Pro Motion

6.7" OLED @60Hz
Processor
Apple A15 Bionic
Apple A14 Bionic
RAM
6GB
6GB
Storage
128G / 256G / 512GB, 1TB, non expandable
128G / 256G / 512GB, non expandable
Cameras
12MP wide camera, f/1.5
12MP ultra-wide camera, f/1.8 aperture
12MP 3X zoom camera
12MP wide camera, f/1.8
12MP ultra-wide camera, f/2.4
12MP 2.5X zoom camera
Battery size
4,352mAh
2.5 hours longer battery life on average
3,687mAh
Charging speeds
20W wired, 15W MagSafe wireless
20W wired, 15W MagSafe wireless
Prices
after iPhone 14 launch, iPhone 13 Pro Max is discontinued on Apple.com
after iPhone 14 launch, iPhone 12 Pro Max is discontinued on Apple.com


After the
iPhone 14
launch, both the 13 Pro Max and 12 Pro Max models are now discontinued over at Apple.com, but they are still available at carriers and you can often find great deals that bring the price way below their $1,100 starting cost.
So... are you excited about the iPhone 13 Pro Max and do you think it's a worthy upgrade over the 12 Pro Max? Let us know your thoughts in the comments below!
Recommended Stories