Sprint Vital Review
9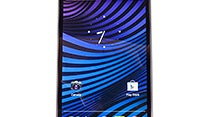 Introduction
Though not a household name, we have found Chinese manufacturer ZTE to have some solid value offerings on Sprint through carrier branded devices like the
Flash
,
Force
and
Fury
. The
Sprint Vital
breaks with the f naming convention, offering a minor refresh to their previous flagship, the Flash. While much of the internals remain the same, the Vital bumps to a 5" display and Jelly Bean. In a crowded and competitive Sprint lineup can the $100 Vital prove worthy? Read on to find out.
Design
Viewed from the front, the Vital is your cookie-cutter black slab smartphone, but don't confuse boring with unattractive. The dark chrome trim ring adds a nice, but familiar touch. ZTE foregoes the standard on-screen navigation keys of the Flash for capacitive ones, and also swaps the app switcher button for menu. The grey plastic middle housing has your standard buttons and ports, and includes a physical shutter button. All of the buttons are generously raised off the housing and offer fantastic feedback.
The Vital finally shows a bit of personality when you flip it over and you find the blue, soft touch backing. Like the Flash there is a large camera hump, although less pronounced this time around. Save the tiny speaker the back is void of any other design, including branding.
The phone is
large and relatively thick
by today's standards, but not wholly uncomfortable to hold and use. It is not as svelte as the
S4
, but won't be too obtrusive in a guy's pocket by itself. At $100 it passes the design test, showing the build quality of a Samsung device though not on par with HTC or LG's top offerings.
Display
The largest bullet point on the Vital's spec sheet is the
5" display
, which makes the phone considerably bigger than the outgoing Flash. While the IPS display is bright, vibrant and generally pleasant to use, unfortunately ZTE kept the same
720x1280 resolution
as the 4.5" Flash, thus dropping the density from a respectable 326ppi to an average 294ppi. Still, for a budget-conscious phone the display is very good and handles all lighting conditions perfectly.
Sprint Vital 360-Degrees View:
Recommended Stories