Sharp AQUOS Crystal Review
37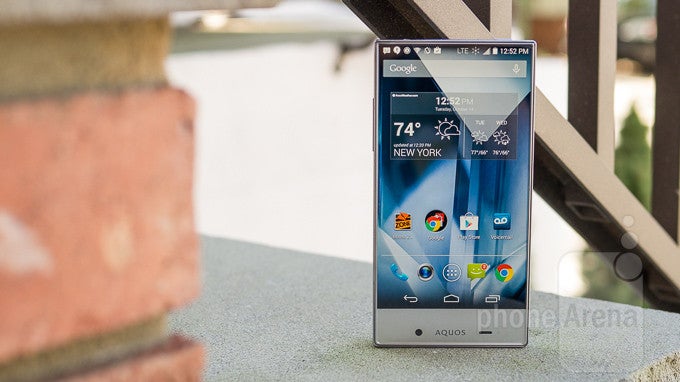 Introduction
Smartphones are becoming thinner, smaller, and more compact for their respective screen size than ever before – the qualities that companies focus on with each successive device they push out. In recent times, we've been introduced to the notion an "edgeless" display, where the gap surrounding the area outside of the display is reduced significantly to make it appear that that the display truly extends all the way to the edges. Sharp isn't regarded as a premier player in the space, but its brand new
AQUOS Crystal
smartphone is undoubtedly turning heads with its amazingly engineered edgeless display. Coming with unique design and low cost make it one very interesting phone, so let's see how good it actually is.
The package contains:
microUSB cable
Wall charger
Start guide
Product safety and warranty information user manual
Design
Originality rears its head here, thanks in part to that "edgeless" look it's sporting.
Besides the obvious with its edgeless display, the Sharp AQUOS Crystal etches out a design that's refreshing unique, and not something that's similar to something we already know. Instead, it sports a hard lined styled body design with what appears to be a metal trim bezel, which makes it feel solid in construction, despite its mostly plastic housing. At the same time, we have to applaud Sharp's engineers for somehow trimming as much fat out of this phone – making it one extremely compact phone for its 5-inch display. To put this into perspective, the 4.7"
iPhone 6
has the same width, but is longer, while the
HTC One M8
which also houses a 5" screen has 17% larger footprint. The Crystal has record screen-to-size ratio of 78.26%, while most flagships offer about 70%.
Unlike its contemporaries, its power button is situated along the top right corner. Usually it's placed along the right side for easier access, but seeing that it flaunts one compact chassis, we're able to comfortably reach it with our finger. Looking around its metal trim bezel, it houses the usual set of ports and buttons – like its volume control, microUSB 2.0 port, microphone, and 3.5mm headset jack.
Interestingly, though, in order to achieve its unique
"edgeless"
quality, Sharp places the front-facing camera, light & proximity sensors, and notification light along the bottom edge of the display. And yes, there's no earpiece speaker in this, but it instead employs a direct wave receiver that vibrates the entire screen to produce sound – similar to the bone conduction technology we've seen implemented by other phones.
Display
Edgeless takes a profound leap here, one that goes above and beyond what others have done previously.
For a company that's most notable for its line of high-definition AQUOS televisions, we're absolutely blown away by the display of the Sharp AQUOS Crystal – a 5-inch 720 x 1280 LCD panel (294 ppi). On paper, it's nothing spectacular, especially considering that we're in an age of QuadHD screens, but it's marvelous for its "edgeless" design. Well, it's technically not edgeless, seeing that there's still a thin amount of space surrounding the left, top, and right edges of the display, but for the most part, it trumps what other companies have attempted to achieve thus far.
Beyond that, it's certainly obvious that Sharp brings its expertise in making television sets to the phone – mostly because it's sporting some high quality elements with its package. In particular, its color temperature of 6456 K is ideal, and one of the most accurate we have ever measured, almost matching the reference value of 6500 K. This means the white has extremely neutral and realistic look. Gamma is also great at 2.15, very close to the reference 2.2. When it comes to colors, though, it's not necessarily one-hundred percent accurate, but the measured values for the most part are within the target range.
Display measurements and quality